Aid Groups at Rohingya Refugee Camps Say COVID-19 Might Force Care Rationing
By Dave Grunebaum, VOA
KUALA LUMPUR, MALAYSIA – Humanitarian aid groups operating in southern Bangladesh say if there's a major outbreak of COVID-19 in the weeks or months ahead, they may face a shortage of staffing, supplies and equipment, which could force them to ration health care and decide which of the most severely ill patients get the treatment needed to have a chance to survive.
There are more than 3 million people in Cox's Bazar district including about 860,000 ethnic Rohingya refugees living in squalid, overcrowded camps. The majority of refugees fled a military crackdown in neighboring Myanmar that started in late 2017.
As of Friday, there were 29 confirmed cases of COVID-19 in the refugee camps, plus one Rohingya who died from it. Medical teams are preparing for an escalation of cases.
"We have a situation in the camps that is really ideal for coronavirus transmissions," said Athena Rayburn of Save the Children, which currently sends 100 front-line health care workers into the camps each day. "We have cramped conditions; people are living on top of each other. There's a lack of hygiene, even when you're out in public spaces it's very difficult to social distance."
There are 18 ventilators available for COVID-19 patients in downtown Cox's Bazar, according to the World Health Organization. However, the drive can take up to several hours from the refugee camps.
"Given the lack of resources, there is a fairly high chance that there will be people in need of care and unable to access it," Rayburn said.
In recent months, aid groups have opened five isolation and treatment centers for COVID-19 patients in the camps and nearby communities, with hopes of adding another seven centers by July for a total of 1,130 beds. Aid agencies say that would be an enormous amount of progress in a short stretch of time, but given how easily COVID-19 spreads and how overcrowded the camps are, medical teams are still bracing for a possible worst-case scenario.
"There is a great concern about potentially not being able to have sufficient capacity for all the cases that we may see," said Dr. Kai von Harbou, who leads the World Health Organization's operation in Cox's Bazar.
Aid groups have discussed the possibility that the disease could spread quickly enough in the camps to overwhelm the resources available, forcing medical teams to ration care.
"I definitely imagine that doctors will have to make choices about patients who may not survive even with the best care and to give that care to patients with a better chance of survival," said Paul Brockmann of Doctors Without Borders. "We all hope to avoid those decisions."
Staffing challenges
Doctors Without Borders is currently hiring, looking to add more than 300 medical front-line staff to its teams working in and near the refugee camps. Brockmann said the group is having a difficult time filling management and supervisory positions because there are not enough qualified Bangladeshis available and there are logistical issues in getting foreigners into the country.
Humanitarian aid groups say massive overcrowding in the Rohingya refugee camps make it easy for coronavirus to spread. (Dave Grunebaum/VOA)
Brockmann said these senior positions are essential to make sure medical front-line staff are not only trained to give patients optimal care but also to prevent them from getting infected with COVID-19 themselves.
"We need the best possible management staff to train the nurses and doctors to manage the wards, and that's one of our biggest constraints," Brockmann said, noting this could limit how many hospital beds are available. "We may not be able to deploy and train enough people."
Additionally, growing global demand and a limited supply of medical-grade personal protective equipment (PPE) is making it difficult to bring enough into Bangladesh. Aid groups say they might run out, which would force them to close treatment wards because they will not send their workers into the medical centers without adequate PPE.
"It is definitely possible that there will come a moment where we might have nurses and doctors that are ready to work and we might not have PPE for them depending how rapidly the cases grow and how rapidly we get replenishment of supply," Brockmann said. "If we don't have sufficient PPE to make sure that we can give them the safest possible working environment, then we simply cannot operate."
Transmission risks
Aid agencies have increased the amount of clean water, soap and hand sanitizer that's available in the camps, but refugees must use communal toilets and water pumps, which increases the risk of virus transmission.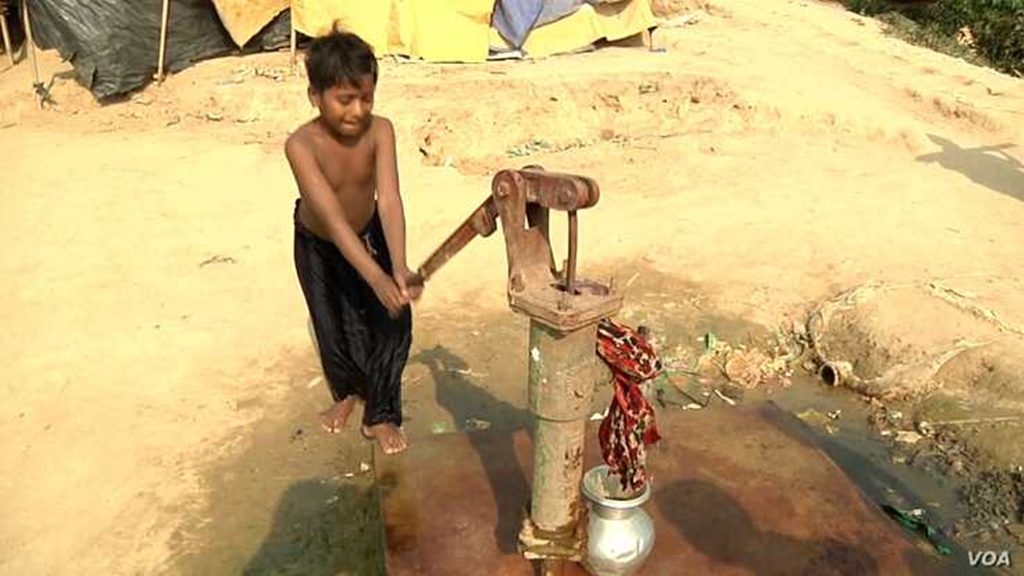 "Has that communal pump been used by someone that themselves coughed on their hands and then pumped on it?" Brockmann said.
Small hand-washing stations are being added to each shelter of the more than 31,000 refugees who are aged 60 and older because they're more likely to develop severe illness if they contract COVID-19.
"The more access people have to hand-washing stations, the more they obviously use it, which is so important to prevent their chances of getting sick," said von Harbou of the WHO. "We're trying to reduce how often they need to go outside of their shelters, which would increase their risks of getting infected."
Aid groups said there has been a lot of outreach to teach the refugees about the dangers of COVID-19 and how to prevent getting the disease. But they said when you look at how many problems some developed countries have had containing the disease, it's easy to see how bad the situation could get in the refugee camps.
"We're dealing with strapped resources," said Rayburn of Save the Children. "A refugee camp is really the last place on earth you'd want to be in the midst of a pandemic."