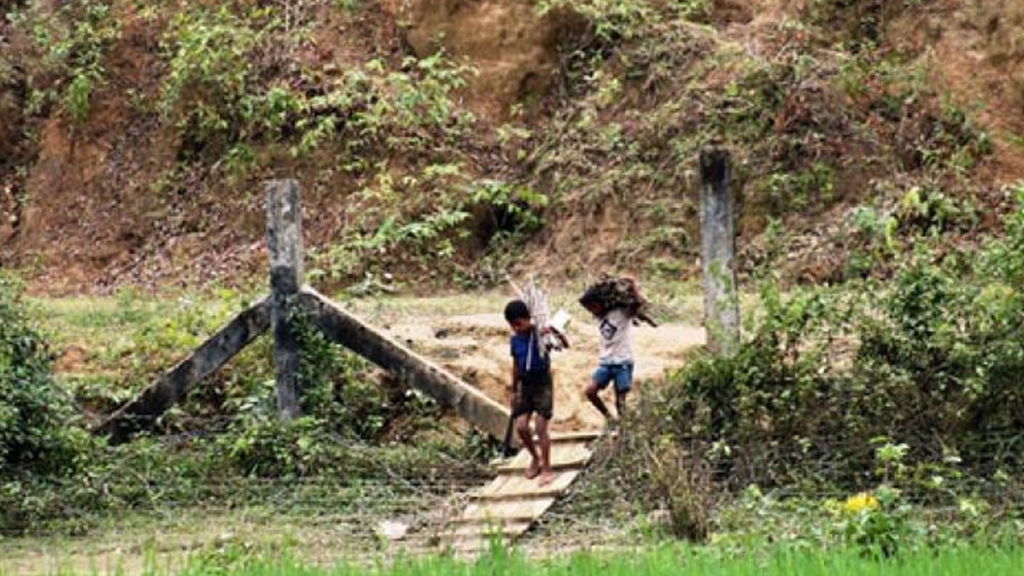 Another landmine blast on Burma-Bangladesh border kills Rohingya refugee
A landmine explosion has killed a Rohingya refugee on the Burma-Bangladesh border, according to Lieutenant Colonel Ali Haidar Azad Ahmed, Commanding Officer of 34 BGB Battalion, Cox's Bazar.
The explosion occurred near the Ambagan area, at Thoyangaziri Pillar number 38/3 under Naikhyangchari in Bandarban, at around 8 am on September 23, and is the second such incident this month, according to the officer.
The deceased was identified as Mohammad Abdul Mazid, 35, son of Mohammad Abdul Malek, from Block-D/1 of Kutupalong mega camp, under Ukhiya police station of the district.
On receiving information, police with the help of the Border Guard Bangladesh (BGB) recovered the body from the zero-point area, said Anwar Hossain, officer-in-charge of Naikhongchhari Police Station.
It was not known why the refugee went to the border region, said Anwar Hosen.
But former Ghumdum UP Member Md Farid said Rohingyas usually use these border routes to smuggle illegal goods into Bangladesh.
Rohingya refugee Abdul Mazid crossed the Bangladesh-Myanmar borderline on September 23 morning, but 50 yards inside Myanmar he stepped on a landmine and was seriously injured when it exploded. Later, local people rescued him from the Myanmar side and sent him to a BGB physician, according to witnesses and 34 Border Guard Bangladesh-BGB personnel.
He died while under treatment due to heavy bleeding, BGB personnel said.
Later, the BGB handed over the body to the Ghumdum police camp asking them to take necessary steps.
Confirming the matter, Ghumdum Investigation Centre In-Charge Emon Chowdhury said the deceased's body will be sent to the Bandarban Sadar Hospital morgue
Dil Mohamed, a Rohingya community leader who lives in the makeshift camp on the tiny strip of "no man's land," said the incident took place near their camp and was very frightening for them.
Additional BGB members are patrolling along the border as things in the border area have become tense after the incident.
Burmese army planted anti-personnel landmine on Burma-Bangladesh border
Myanmar authorities have planted anti-personnel landmines at the Bangladesh-Myanmar border, said Colonel Azad.
Dhaka has previously accused Myanmar security forces of planting mines along the frontier to prevent the refugees from returning — a charge Myanmar rejects
Different international organizations, including Amnesty International, have raised concerns over the planting of landmines by the Myanmar Army along the border it shares with Bangladesh.