Art education program seeks to reprieve traumatized Rohingyas
By Nawaz Farhin Antara, Dhaka Tribune
The ordeal of their expulsion from Myanmar left many Rohingyas unwilling to express themselves and voice opinions
International NGO Artolution has enlisted 25 Rohingya artists from their art education program to help fellow refugees express themselves.
Since their expulsion from Rakhine state in 2017 at the hands of the Myanmar army, Rohingyas have suffered through much trauma, losing their homes, loved ones, and often enduring harsh living conditions.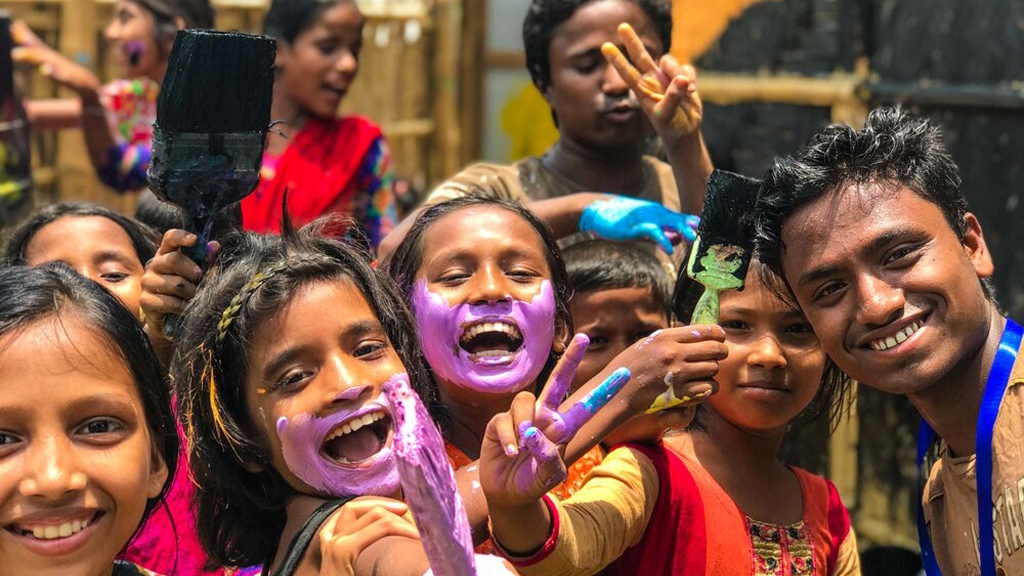 The ordeal has left little room for creativity and cultural expression for those living in camps. Many have gone into their shells, unwilling to come forward and voice their opinions on important issues.
Artolution has been striving to make a difference on that aspect of the refugees' lives, encouraging them to express themselves through art, paint and cultural activities.
"Day after day I went to them and found that there are no artists among them. But that's impossible because every culture has artists," said Max Frieder, executive director and co-founder of Artolution.
Max was eventually able to find Rohingya artists who, he learned, had been forced to suppress their talents and creativity due to their hardships. He immediately set out to address the problem.
"I felt there was mass trauma in the displaced Rohingya community that needed to have seeds of creativity planted for recovery. My core motivation was to find and facilitate Rohingya artists and teachers who could help us repair their society through community-based public art education," said Max.
"We went from having two artists in 2017 to over 20 artists in 2020. It's a dream come true."
Among those helped by the program is Dilder Begum, 22, a Rohingya housewife who lost family members including her husband during their expulsion from Myanmar. When she arrived in Bangladesh, she was so traumatized that she could hardly even speak.
"I didn't even feel that I was alive at the time. I just suffered in silence. But when I engaged with colors (through the art education program) I started to speak again. I feel reborn and have my life back. I will keep going," she said.
Artolution continues to transform the lives of people such as Dilder by helping them to regain their personality and their confidence, partnering with various agencies such as Unicef Bangladesh, UNHCR Bangladesh, IOM UN Migration, UNFPA, and International Federation of the Red Cross and Red Crescent Societies.