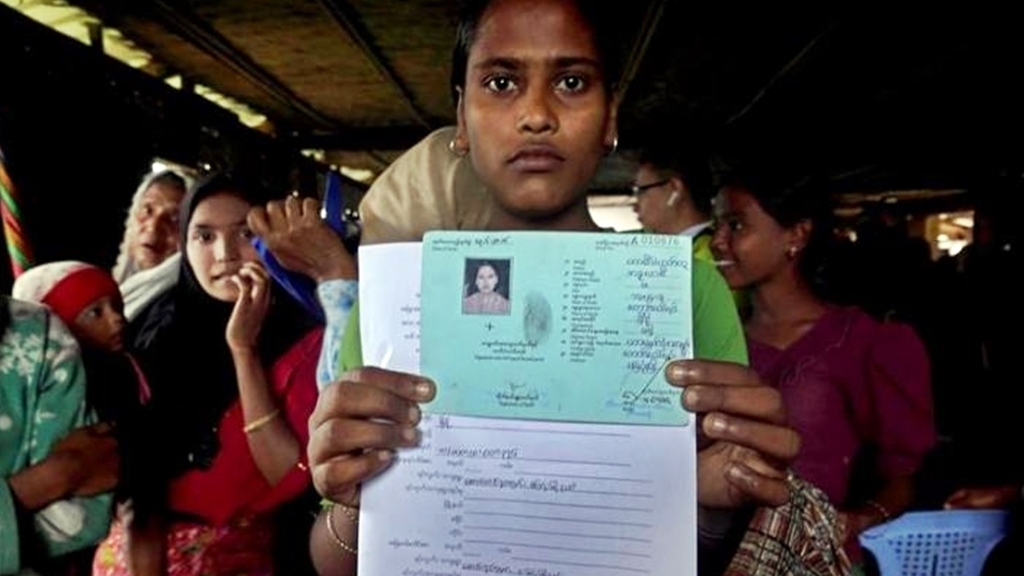 Citizenship Verification is not Part of the Solution
By Aman Ullah
"Fears and suspicious generated by deception, injustice and lack of respect of human dignity cost long shadows across societies fractured by the violation of human rights." – Daw Aung San Suu Kyi
In mid-May, our Burmese foreign ministry Daw Aung San Suu Kyi had asked the American embassy not to use the term Rohingya on the spurious grounds that it was "controversial" and "not supportive in solving the problem that is happening in Rakhine state." The Americans refused. The request was utterly disingenuous.
Prompted by the visiting U.S. Secretary of State John Kerry, Suu Kyi returned to the theme on May 22, saying that her government would be firm about not using "emotive terms" like Rohingya or Bengali.
Kerry praised his counterpart for explaining her approach to the incendiary issue. "At the same time we all understand as a matter of fact that there is a group here in Myanmar that calls itself Rohingya," he added. The US says it backs the rights of all ethnic groups to identify as they wish.
"Emotive terms make it very difficult for us to find a peaceful and sensible resolution to our problems," Ms. Aung San Suu Kyi told reporters on that day. "All that we are asking is that people should be aware of the difficulties we are facing and to give us enough space to solve all our problems" she said.
On using the term "Rohingya":
We want to avoid any terms that will just add fuel to the fire. We are not just talking about one particular term. We are talking about all the terms that are provocative, and create greater division between our people in the Rakhine and elsewhere. We got to be very firm not to use these emotive terms because emotive terms make it very difficult for us to find the peaceful and sensible resolution to our problems. There are two terms which are emotive. We got to face them fairly and squarely. The Rakhine Buddhists object the term "Rohingya" just as much as the Muslims object the term "Bengali" because these have all kind of political and emotional implications which are unacceptable to the opposite parties.
If there does the insistence on either part – either on the part of the Rakhine Buddhists or the part of the Muslims – to make an issue out of the term know full well that they will create more animosity, it will not help us in finding a resolution to the problem at all. What we want is to find the practical resolution. We are not interest in rhetoric.
We are not trying to out-talk anybody. We are not trying to say that any particular stand with regard to nomenclature is better than another. What we are saying is that there are more important things for us to cope with than just the issue of nomenclature. I know that is important because it is to do with identity. And identity is of extreme importance to people all over the world. We are not in any way undermining people's desires to establish their own identity. What we are asking for is that those who really wish well should be aware of the implication of terms that they use , quite perhaps, unwittingly, not knowing what the implications are for those of us , who have to cope with the actual problems that arise from this disagreement over what name to use.
We are trying to find the solution to this problem and while we are trying to find the solution we would like our friends to be helpful on this, to understand that we are not trying to do-down any particular route. But we are trying to find something, some way forwards that will be acceptable to both. That is very difficult and I am not denying that. And if our well wishers do not cooperate with us, it will make our task that much more difficult, which is not to say that we have been backing away from it, we still accept it as our responsibility and we are trying to do the best we can to resolve the problems to the benefit of both communities.
The new government was trying to tiptoe through the deeply controversial subject to find a solution that is acceptable for all, she explained.
Meanwhile, on 30 May, Burma's new president, Htin Kyaw, has set up a grand-sounding "Central Committee for Implementation of Peace and Development in Rakhine State," which consists of 27 officials, including the members of the cabinet and representatives of the Rakhine state government, to be chaired by Suu Kyi herself.
According to the state-run Global New Light of Myanmar, this committee will consist of four sub-committees:-
Security, Peace and Stability and the Rule of Law Working Committee,
• Immigration and Citizenship Scrutinizing Working Committee,
• Settlement and Socioeconomic Development Working Committee,
• Working Committee on Cooperation with U.N. Agencies and International Organizations.
According to Irrawaddy report, on 4 June, the State Counselor Aung San Suu Kyi, who chairs the new committee, met with Rakhine Chief Minister Nyi Pu and various national government ministers to discuss the controversial process for internally displaced persons that reportedly resumed this month. The policy will affect the 120,000 stateless Rohingya Muslims that currently live in camps for in internally displaced people in Rakhine since 2012 when communal violence erupted between them and local Buddhists.
Although, the members of a new government committee arrived in the state capital Sittwe on 7 June to begin an inspection tour, the government unfortunately, took up a citizen verification project, a project, which began on June 7. According to the Ministry of Immigration and Manpower, it is a pilot project and is being done in Kyaukphyu, Myebon and Ponnagyun townships of Rakhine State as a part of the government's 100-day plan, which will adhere to the 1982 citizenship law.
In real sense, the government's barking up the wrong tree. The government is trying to find the solution to the problem of Arakan. But the Arakan Problem is not merely an immigrants problem rather it is a problem of "survival of the fittest". The survival of the interests of Big Powers like, China, India, Japan and US are also involved there. The survival of the narrow interests of USDP and Burmese army high-up are also involved there. The personal interest of some of the Rakhine political leaders including Aye Maung are also involved there. The Business interests of the some of the cronies are also involved there.
Thus, the citizenship verification is not part of the solution of the total problems of Arakan, rather it will remain as a part of problem.
Mean while, we would like to quote a part of Daw Aung San Suu Kyi's speech, which was delivered by her son Alexander Aris @ Myint San Aung, in the Washington on the 14 May, 1992, when accepting the International Human Rights Groups award on behalf of his mother.
"Fears and suspicious generated by deception, injustice and lack of respect of human dignity cost long shadows across societies fractured by the violation of human rights. Healing the hearts of such societies is essentially a process of reconciliation which requires a genuine desire to place happiness and well-being of the whole nation above the narrow interests of individuals and groups. It also requires an atmosphere of increasing trust. The re-establishment of trust after a long period of bitter antagonism depends on willingness by all to face the truth about deeds, emotions and attitudes which causes suffering and discord."
We hope that Daw Suu will try to maintain her words. The most important task in this time, in Arakan, is re-establishment of trust among the peoples of Arakan, after a long period of bitter antagonism which causes suffering and discord. Healing the hearts of these peoples is essentially a process of reconciliation with a genuine desire to place happiness and well-being of the whole peoples of Arakan, which will require an atmosphere of increasing trust.
The government needs to take confidence building measures in order to create congenial atmosphere in Arakan that will re-establish trust among the peoples of Arakan. In this regards the government should immediately need to take the following steps:-
Make relieve form the hell like conditions and several restrictions to the peoples of Arakan, particularly the Rohingya.
• Abolish the Rakhine Action Plan and end institutionalized discrimination against the Rohingya, including the denial of citizenship.
• Hold accountable all those who commit human rights abuses, including inciting ethnic and religious intolerance and violence.
• Take masseurs for rehabilitation (not relocation) of IDPs to their original homes, which need to facilitate the safe and voluntary return of them to their communities.
• Take masseurs to reintegration of these IDPs to their original society.
• Develop a comprehensive reconciliation plan, including establishing a commission of inquiry into crimes committed against the Rohingya in Arakan.
• Improve the welfare of ethnic and religious minorities and repeal laws and discriminatory practices that pose an existential threat to the Rohingya community.
Last not the least, the government need "to give enough space to breathe" to all the peoples of Arakan including Rohingyas.