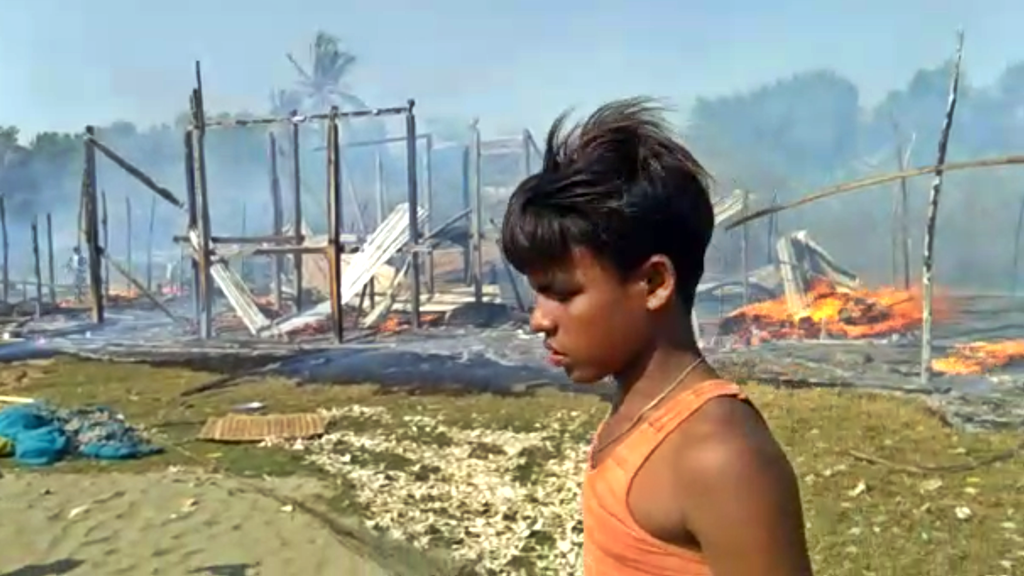 Fire destroys a dozen Rohingya houses in Sittwe, Arakan
By Mohammed Rafique, The Rohingya Post
On March 1, a fire broke out in Bay Dar (Bogaddif) village, Sittwe, Arakan, destroying at least 12 Rohingya houses.
The blaze has started at 3:00 pm local time which spread rapidly due to the strong wind. The wind has also caused the villagers difficulties in extinguishing the fire. The villagers could not able to call for fire brigade because of the lack road access for fire truck.
There has been no casualty except a nine-year-old girl who has sustained a minor burn. She has stuck inside her house when the fire spread. The villagers have broken through the house for her rescue. She was temporarily treated for the burn at a clinic in Dar Paing village.
Fire destroys a dozen Rohingya houses in Arakan

Fire broke out in Bay Dar (Bogaddif) village, #Sittwe, #Arakan, destroying at least 12 #Rohingya houses. A nine-year-old girl sustained a minor burn.#Myanmar #Rakhine pic.twitter.com/ypwe7HSLiW

— The Rohingya Post (@TheRohingyaPost) March 2, 2022
It is estimated that nearly 500,000 Rohingya are still living in impoverished conditions in villages and IDP (internally displaced persons) camps in Arakan State of Myanmar, who continue to suffer the ongoing practices of genocide under the military regime.
At least 850,000 Rohingya were forced to flee into neighbouring Bangladesh after the military launched two campaigns of genocide in 2016 and 2017. The genocide case against Myanmar by The Gambia is ongoing at the International Court of Justice (ICJ) in the Hague. The court concluded preliminary hearings on Monday, and it is set to delivery its decisions on preliminary objections.