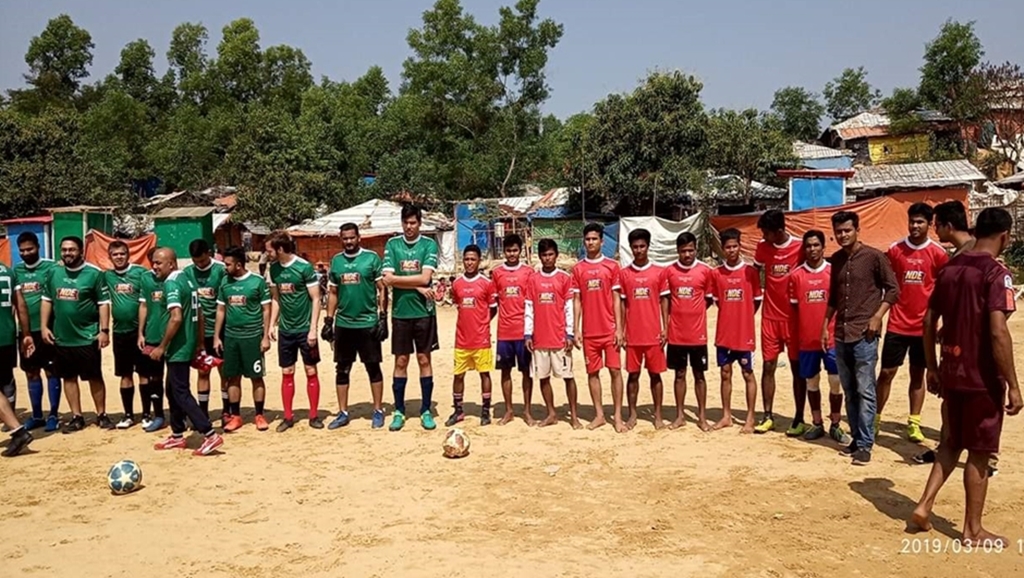 Football fever in Kutupalong
Last Saturday, Kutupalong was abuzz with the sound of boot striking leather and the accompanying cheers of an engrossed and sizeable crowd as a Dhaka-based football club squared off in a match against Rohingya FC.
The football team representing the population of the persecuted refugees of Myanmar won the game 3-2 agains the Footy HAGS — a local Dhaka based recreational football club made up of corporate professionals and entrepreneurs who were on a 'Friendship Tour' of Cox's Bazar.
According to their press release the game, apart from the obvious enjoyment, was aimed at building a strong bond and friendship between aid workers, locals and the refugee community in Ukhiya, currently the largest refugee camp in the world.
The HAGS also distributed football jerseys, footballs and football boots to the members of the Rohingya FC team before the match along with board games and exercise equipment for the broader community.
"Football is a fantastic way to build bridges between communities and we hope that more events like this can be organised in the future between refugees and the people of Cox's Bazar, and guests like us," said HAGS spokesperson Bickey Russell, who along with Charlie Goodlake scored the goals for the tourists, adding that he hoped that the small donation of jerseys and balls would help the newly developed team sustain for a few months.
The HAGS tour was generously sponsored by NDE Sports Facility, Uber, Kormo, Magnito Digital, Occult and Maya, with support from the UN Refugee Agency
Source Daily Star