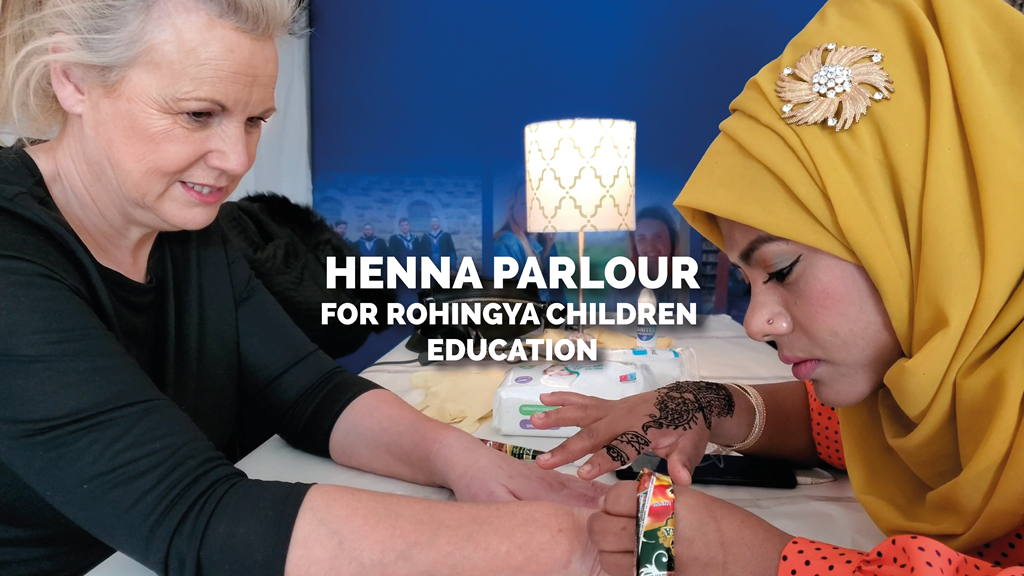 Henna Parlour for Rohingya Refugee Children Education
By Rohingya Action Ireland
Rohingya girls and women from Rohingya Action Ireland opened a henna tattooing parlour to raise fund for the education of Rohingya children in refugee camps in Bangladesh.
The parlour session which lasted for six hours at Fairgreen Shopping Centre on March 26, has brought many people of diverse backgrounds from Carlow, aided with the wonderful warm weather.
Rohingya girls and women have used various patterns to leave impressive artistic and cultural henna tattoo to the exited clients.
Henna is a naturally-grown dye obtained from henna tree. The dye leaves beautiful artistic stain on skin, which last up to three weeks. Henna tattoo is popular among the Rohingya community during festivals, engagements, weddings and other special ceremonies.
The fund raised during the session will be contributed to Rohingya refugee children who are struggling to seek primary education in the refugee camps where they have taken refuge after fleeing the campaigns of genocide in their home country Myanmar. Since January 2022, the government of Bangladesh has ordered to ban and demolish community-led and home-based schools in the camps affection tens of thousands of Rohingya children.
The parlour session was supported by Fairgreen Shopping Centre, Carlow County Development Partnership, SICAP, Carlow LCDC, Carlow Country Council and Carlow College.