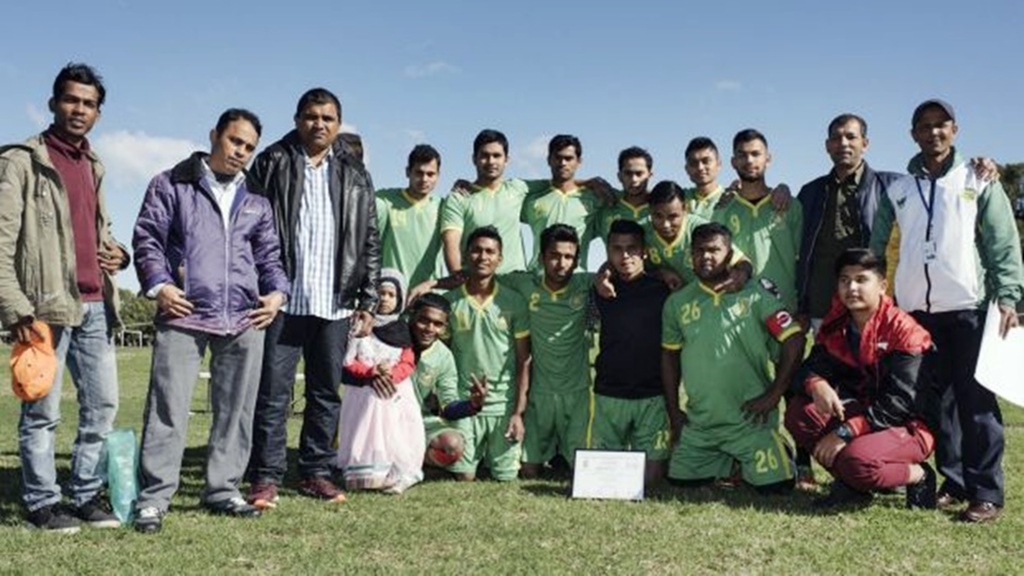 How football gave Rohingya refugees hope and purpose
By Dominic Bossi, The Sydney Morning Herald
Hamid Ullah's face lights up when he has to present his identification card at the start of every game. Like the 20 players of Lakemba's all age division nine team, having a recognised identity was as far-fetched as playing registered football when he was growing up as a Rohingya in Burma. The closest they got in their native country were social games held in secret deep inside rice paddies, far from the sight of authorities.
"The Buddhists don't let us play because they say it's not our country, it's their country," Ullah says.
Ullah, like all of his teammates, is a refugee from the Rohingya Muslim minority in Burma who are among the most persecuted people in the world. They have not been recognised by the state since the 1982 Burmese Citizenship Law. It denies them the right to citizenship, identification, health, education and legal services.
They have no state and no home, despite having lived in Burma for generations. What started as oppression soon led to allegations of ethnic cleansing.
"If we were in our country, we could have been killed by now," Ullah says. "They're killing people everywhere, the monks, the Buddhists, the police and the military are hanging Rohingya people with a rope from a tree, they're stabbing people."
The mental anguish means few want to retell their stories. Even less can while they are yet to be granted permanent asylum, such is the fear of being returned home.
"If I'm by myself, I will cry," Mohammed (not his real name) says. His family remains in Burma where the persecution is administered daily in his village and livelihoods taken at every opportunity. "We had goats, chickens, roosters and they [police and military] just take it or kill them, and then hit you and beat you … It's like that every day."
Usman* is one of the youngest in the team, but he is already labelled a star, a tag he humbly rejects. He has a gifted touch, a burst of pace and a vision that makes him the X-Factor. He is light and carefree on the field, a stark contrast to the weight of the world that was once all that filled his pockets.
"The military came into my village and tried to catch all the people," he says. "I saw with my own eyes, they were killing people."
As a teenager, he was forced to leave his family and take the dangerous, lonely and uncertain voyage to Australia: two days by boat to Bangladesh, five days by sea to Thailand without food or water before spending 18 days in jungles enroute to Malaysia. From then, he dodged authorities in urban areas before braving the Indian Ocean to reach Christmas Island, but nothing on that journey prepared him for the hell of indefinite detention.
"When we first got there … everyone was crying, scared; it was really hard," he says.
His story is all too familiar among his team, where all but one arrived by boat. They found solace at Parry Park in Lakemba, bonding over one thing they longed to do – play football. It was social at first before their refugee case manager at Settlement Services International, Javier Paul Ortiz contacted a local club, Lakemba Sports, hoping to give them purpose.
Most are on bridging or temporary protection visas and unable to find regular work. The club didn't hesitate in covering the registration costs of the players, worth more than $5000 for the 20-man squad, providing them with their first identification cards and playing kits. The players tried to raise funds through sausage sizzles in appreciation of their football identity.
"They've been excellent," Lakemba treasurer Mohammed Harris says. "Every time we come and watch them they've got a lot of supporters there and they're helping out with the club, setting out the fields, training at least three times a week and there's always a positive vibe amongst them."
The respect for the opportunity isn't lost on the players. Their coach, Mohammed Younus, thought he would make a good winger if given the chance in Burma, but his heart condition forced him to call the shots from the sideline, wearing a club jacket with a sense of pride that is as humbling as it is charming.
"I'm thankful," he says. "All the things I did in three years in Australia, I couldn't do in 40 in Burma."
Lead by captain Younis*, the team has since inspired a community. The crowd of Rohingya nationals grows each week at Parry Park, regardless of the results.
"We just want to work hard, we just want to play and we want to get to a higher level," he says.
The team photo is proudly displayed throughout their community's shops and throughout Lakemba as the players have become local stars of a team affectionately dubbed "The first Rohingya national team".
That they're probably not, but for people who have spent their whole lives in hiding, no dream is suddenly too big.
It's why Usman has gone from being the secret star of rural rice paddies to boldly asking a question he previously never dared ask: "How far do you think I can go?"
*Not their real names