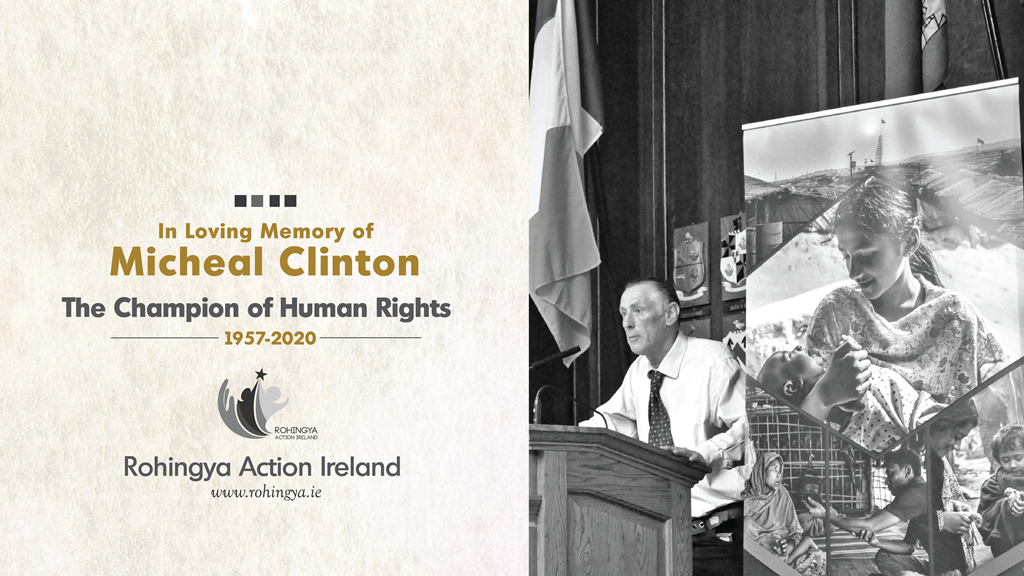 In Loving Memory of Micheal Clinton | A Great Champion of Human Rights
Statement of Condolence
Micheal Clinton: A Great Champion of Human Rights
It is with great shock and disbelief that Rohingya Action Ireland has received the sad news of Micheal Clinton's passing on Saturday, September 19, 2020.
Micheal was a cofounder of Rohingya Action Ireland. He was a life-long supporter and champion for social justice in Ireland and across the world. He dedicated his life to make the world safer and better for the persecuted. For over a decade, he raised his voice, campaigned to create awareness and lobbied for the cause of  Rohingya.
Micheal played an instrumental role to revoke Freedom of City of Dublin and Freedom City of Galway from Aung San Suu Kyi in 2017 and 2019 respectively. He has also successfully campaigned and lobbied in Ireland on the persecutions of Rohingya in Myanmar while he was actively engaged on social media to create awareness on the global scale.
Micheal Clinton was a great champion of human rights for persecuted communities from Rohingya, Palestinians, Yemenis, Uighurs to Kashmiris. He has always believed in love and peace for which he has made a great personal sacrifice, continuing to campaign as he suffered setbacks in his recovery. He has now left a huge void to fill in the hearts of the Rohingya community.
On behalf of Rohingya Action Ireland and the Rohingya community, we convey our heartfelt condolences to the family, relatives and friends of Micheal Clinton at this very difficult and sad time.
We mourn the demise of our great champion of human rights and social justice who will be missed dearly.
For more information:
Mohammed Rafique |  Chairperson
Stephanie McDermott | Secretary
Rohingya Action Ireland
info@rohingya.ie
---
"As a fellow in the fight for justice, Micheal was exceptional in his resilience and dedication towards people without a voice. He was the voice for those who don't have a voice. As a brother in the fight for humanity, Micheal has always revealed his beautiful compassion and kindness towards every human beings. As a co-founder of Rohingya Action Ireland, Micheal has put everything he had to make the community better and thriving in every sense. He leaves a void in our heart and soul. He left us so early. We will strive to ensure that his legacy of compassion, dedication, love and peace will live on." – Mohammed Rafique, Cofounder and Chairperson of Rohingya Action Ireland
"We have lost an exceptional person in Micheal. Micheal cared for the most vulnerable in society, particularly those who are the most persecuted. Through his tireless campaigning, up to the day of his passing, he exercised and exemplified what is good in people. Micheal believed in human rights and dignity for all, particularly for the Rohingya community. His drive and determination as an advocate and lobbyist at local, national and international level was vital and effective in raising the profile of those suffering human rights abuses and injustices. His solidarity with the most vulnerable and marginalized was clearly evident in all of his endeavours and initiatives. Micheal's generosity and his humour always lifted our spirits whenever we faced setbacks and when the work ahead of us seemed overwhelming. Micheal never appeared overwhelmed and always carried out his work on social justice with professionalism and pride.  Micheal, an inspiration and friend to all. May he rest in peace and may his legacy of fighting for justice, demanding accountability for the perpetrators of human rights abuses live on in all of us." – Stephanie McDermott, Cofounder and Secretary of Rohingya Action Ireland, Lecturer at Carlow College, St. Patrick's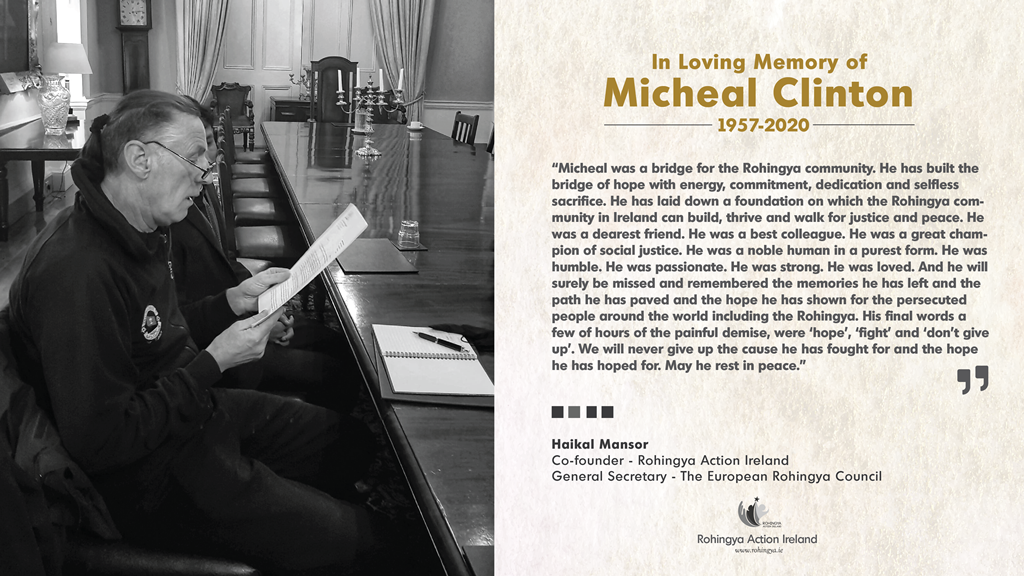 "Micheal was a bridge for the Rohingya community. He has built the bridge of hope with energy, commitment, dedication and selfless sacrifice. He has laid down a foundation on which the Rohingya community in Ireland can build, thrive and walk for justice and peace. He was a dearest friend. He was a best colleague. He was a great champion of social justice. He was a noble human in a purest form. He was humble. He was passionate. He was strong. He was loved. And he will surely be missed and remembered the memories he has left and the path he has paved and the hope he has shown for the persecuted people around the world including the Rohingya. His final words a few of hours of the painful demise, were 'hope', 'fight' and 'don't give up'. We will never give up the cause he has fought for and the hope he has hoped for. May he rest in peace."  – Haikal Mansor, Cofounder of Rohingya Action Ireland, General Secretary of The European Rohingya Council
"As a founder member of Rohingya Action Ireland Micheal was a powerful and tireless advocate for the rights of the Rohingya community in Ireland and internationally. Micheal used his position to amplify the voices of those who have been persecuted and denied their humanity and was truly a global humanitarian. Those of us in Carlow College who worked alongside Micheal and were part of his journey will miss the energy, compassion and selfless commitment he demonstrated. We will endeavour to draw inspiration from his example as we strive to challenge injustice in the way that Micheal saw was possible, speaking truth to power." Helen Maher, Cofounder of Rohingya Action Ireland, Vice President of Carlow College, St. Patrick's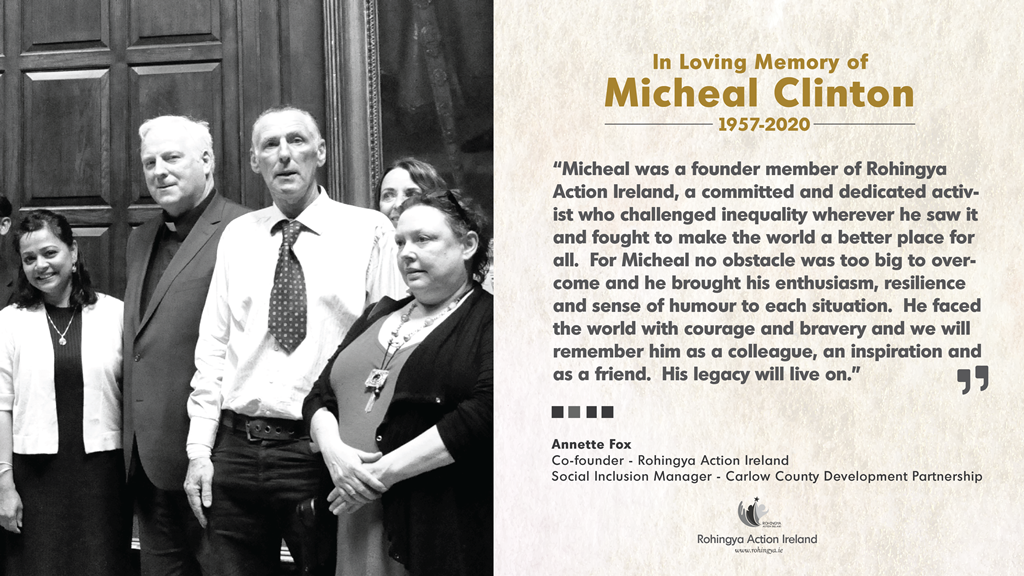 "Micheal was a founder member of Rohingya Action Ireland, a committed and dedicated activist who challenged inequality wherever he saw it and fought to make the world a better place for all.  For Micheal no obstacle was too big to overcome and he brought his enthusiasm, resilience and sense of humour to each situation.  He faced the world with courage and bravery and we will remember him as a colleague, an inspiration and as a friend.  His legacy will live on." – Annette Fox, Cofounder of Rohingya Action Ireland, Social Inclusion Manager of Carlow County Development Partnership