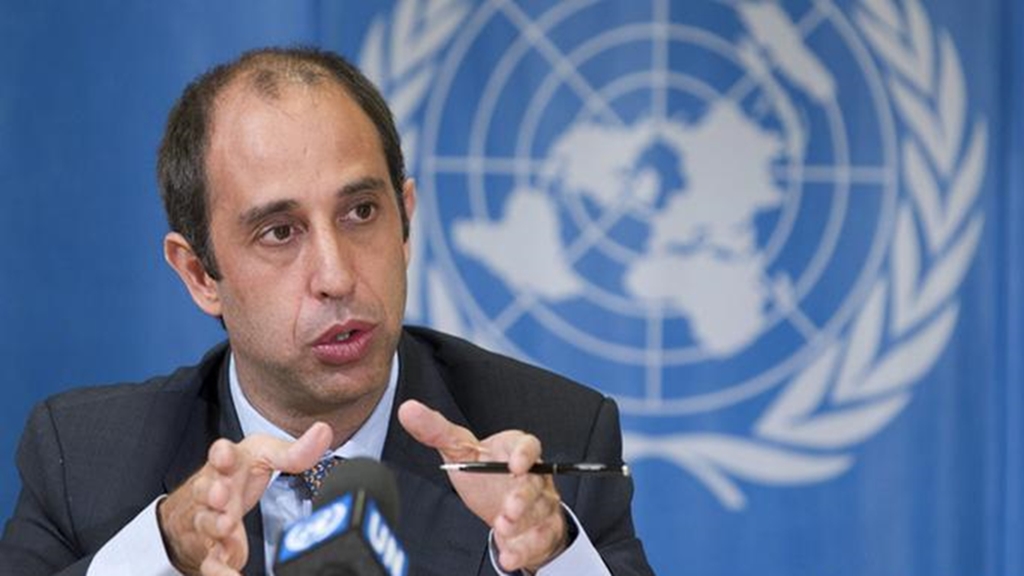 Interview with UN special rapporteur on human rights in Myanmar
October 24, 2013
BUENOS AIRES
 – Myanmar's government has signed individual ceasefire agreements with 14 main non-state armed groups since 2011, and is pressing ahead with plans for a national ceasefire agreement, originally scheduled for the end of October, but now delayed. The most recent round of negotiations with northern Myanmar's Kachin Independence Organization (KIO) brought further 
hope of nationwide reconciliation
.
But the government faces ongoing tension in western Rakhine State between ethnic Rakhines (primarily Buddhist) and Rohingyas (mostly Muslims), continued fighting in 
Kachin State
 which in the past year has left more than 83,000 people displaced in 42 camps, and allegations of human rights abuses against the country's ethnic minorities.
Following his most recent mission to Myanmar in August 2013, IRIN met Tomás Ojea Quintana , the UN special rapporteur on human rights in Myanmar, in his home city of Buenos Aires, to discuss the prospects for a nationwide ceasefire; segregation in Rakhine State, and allegations of army or police brutality against Rohingyas, as well as the implications of the transition to democracy for the country's ethnic minorities.
IRIN: Given the history of broken ceasefires between non-state armed groups and the Myanmar government, what assurance is there of lasting peace with the latest round of peace talks?
Quintana: Now what is totally different is that it is a civilian government in transition to a democracy. As a human rights rapporteur, I would not say that it is a democracy yet. Democracy will take a long time. But it is a civilian government that is progressively gaining respect, particularly from Western countries.
This respect has given the civilian government some kind of [room for] manoeuvre to have this discussion with the ethnic armed groups [to disarm], which is of course very important [for the peace process].
The ethnic groups, all of them, have reservations about where this might go in terms of lasting peace, in terms of receiving the benefits from development, and in terms of their participation in the exploitation of natural resources.
They have reservations in terms of the political structure of the country, which currently does not [allow] ethnic groups the participation they would like to have [in governing themselves], and regarding their [own political autonomy].
Nonetheless the government has signed [peace deals] with most of the NSA [
non-state actor
] groups. There is only one group, the Kachin, the KIA [Kachin Independence Army], which is still holding conversations. They have recently signed an agreement… which is not exactly a ceasefire… but it goes in that direction.
And now, after my last mission [in August 2013]… I talked to the president and [his] advisers who are in charge of the peace process and they are planning to hold a national ceasefire agreement by October 2013.
IRIN: How would a national ceasefire differ from individual ceasefires?
Quintana: It will be a very important message to the international community that all [of] Myanmar is united towards the very important objective of peace. A lot of pressure is being put on the KIA [to sign].
The problem… is how these ceasefires will be implemented on the ground and how they will reflect the interests of all the villagers living in remote areas. We don't see a comprehensive plan to implement these decisions. For example, one of the issues is what will happen to the [Burmese] 
refugees in Thailand
? If you were a refugee would you want to go back?
There is no transparency, no plans [for implementation]. Nobody knows about the
problem of the landmines
, the problems with the land. There is a lot of land confiscation. It is a really serious problem how to move from a ceasefire – from stopping the bullets from flying – to something different, to build a united country. That is still very difficult and will take a long time.
IRIN
: What are the barriers in 
Kachin State
, the only place where the government has not reached an agreement with rebels?
Quintana: It is not clear. The KIA allegations are that the military is not actually following the decisions of the civilian president and there is still a militarization in the area, which they won't accept. The Kachin community in particular has a strong stance on the possibility for [it] to run [its] own businesses in Kachin State [instead of competing with the military for business and income].
The government, though, is not opening up any spaces for these kinds of issues to be included in the dialogue so far. That is why it has been quite difficult to reach an agreement.
IRIN: How representative are non-state armed groups of people in their communities?
Quintana: That's a difficult question because there is not a formal democracy and no formal electoral process, so how do you say to what extent they are representative.
What I have seen…is that ordinary people in villages really don't understand and don't believe that ceasefires and peace processes will bring concrete benefits to them. That is a problem. The leaders of ethnic groups need to have better connections with their own people.
And the same with the refugees. When you talk to the refugees about returning and the information they have in respect to what is going on in Myanmar, they don't know. They don't trust. They still fear a lot. It seems that the ethnic leaders need more work in this respect.
At the same time, the people and the ethnic army leaders have faced oppression from the military regime for decades and that is very, very tough to lead, and to recover from that, and to try to [be] more organized with your communities is not easy.
IRIN: What can be done to engage communities more in peace talks?
Quintana: The government and the ethnic leaders are doing a lot… to settle the problems at the top, at the highest levels. But they need to involve the communities in a more widespread and comprehensive plan of action. You don't see the communities being involved. And that has been the practice in Myanmar for decades. I mean that is how the military operated… giving instructions and expecting instructions to be implemented – period – without consulting. It's part of a historical problem in Myanmar. It is still there.
Quintana: They [the commission] never addressed what happened – the human rights abuses. This is a clear shortcoming and it is one of my concerns. And I am calling for the [UN Human Rights Council] to continue to address this. The allegations of what happened are very serious. Widespread human rights abuses, torture of hundreds of prisoners in Buthidaung [a prison in Rakhine State holding an estimated 1,000 Rohingyas], a place I have visited, and the government has not done anything about that. The situation in Rakhine is quite fragile and critical.
IRIN
: What is the potential of the Association of Southeast Asian Nations (ASEAN) to help mitigate what is now a 
regional crisis
?
Quintana
: ASEAN countries don't want to get involved. Based on the 
non-interference provision
 of ASEAN charter, they do not want to interfere. There is no potential [for ASEAN] as a regional mechanism [to pressure the Myanmar government to resolve the conflict]. I tried many times to address ASEAN, to let them know they have an important role to play… It is becoming a regional, not a national problem.
IRIN: Is the government putting any foundation in place to allow Rohingyas to return to their homes in northern Rakhine State?
Quintana: No… The original places of the Rohingyas are being used for some other purposes by the government.
Quintana: There is a dilemma because the [displaced] people still need access to humanitarian aid. So if you do not provide that because you say you do not agree with [the government's] policies of making settlements permanent, then you are not delivering the aid. So you have a problem there. And the humanitarian agencies or donors try not to get involved in the political arena of a country.
IRIN: What are the risks of long-term segregation of Buddhists and Rohingyas, where government- monitored encampment have cut displaced Rohingyas from their land and livelihoods?
Quintana: It's going to be a disaster because many of the areas that you can look into in respect to the Rohingyas, how Rohingyas are treated, you always see obstacles, limitations, and intentions to not help them at all.
IRIN: What role can civil society play in reconciliation?
Quintana: I hope they are included as participants in the implementation of the [ceasefire] agreement. That is the role they need to play but that is the role that their own leaders need to address with them [ethnic communities]. The[se communities'] leaders need to say that they want their own people to be involved.
My job as a rapporteur is to say, 'You are an ethnic general of armed forces. I understand… you have been fighting for years against your army. But now you need to play some other role and let your people participate.' It will take time…
[During my] last mission my convoy was attacked by Buddhist mobs [where I was addressing the issue of communal violence]. And the police stood by so it was kind of planned somehow… It was more than tense. I was frightened. But I am still holding the mandate [as Myanmar's special rapporteur on human rights].