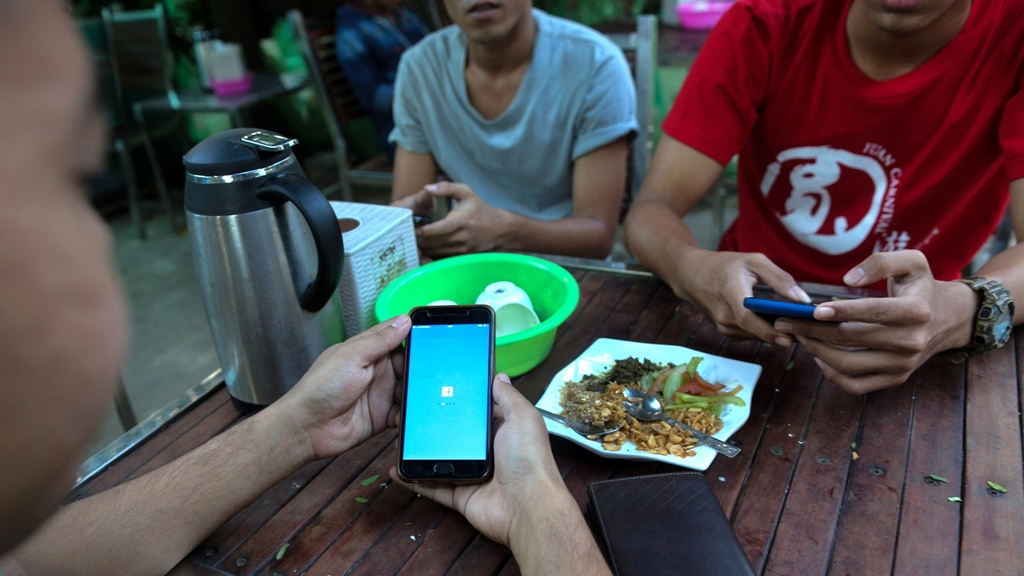 Myanmar's military-backed telecoms company is peddling fake news and seeking to control the internet
By Kayleigh Long and Burhan Wazir, Coda
In authoritarian countries, armed forces wield huge power over digital spaces
Myanmar's military sought influence, power, and money via a Facebook disinformation campaign to benefit a telecoms company backed by the country's armed forces.
A recently exposed disinformation campaign on Facebook has highlighted the powerful role played by military-backed telecommunications companies in controlling digital spaces in one of the most authoritarian corners of the world.
As part of the social media platform's much-publicized crackdown on fake news, the company earlier this year began to publish monthly reports about accounts, pages and groups designed to misinform and mislead users.
A recently released document revealed a coordinated campaign targeting hundreds of thousands of people in Myanmar geared toward improving public opinion toward MyTel, the telecommunications company backed by Myanmar's military.
The social media company found that a number of accounts, originating in both Myanmar and Vietnam, had posted material critical of three companies: the Myanmar-backed MPT; a Qatari company named Ooredoo; and the Norwegian Telenor. All are rivals of Myanmar's military-backed telecommunications company MyTel. In total, the network of pages had gathered some 265,000 followers and spent more than $1.1 million on Facebook advertising.
According to the report, the administrators and owners of the accounts, which purported to be independent consumer news pages, operated financially-motivated influence operations that shared content about the alleged business failures of MyTel's rivals. The posts were written in English and Burmese.
MyTel is a joint venture between three major groups, including Myanmar's military and VietTel, which is owned by the Vietnamese Ministry of Defense. In its investigation into disinformation in Myanmar, Facebook also discovered that although the organizations behind the campaign had attempted to conceal their involvement, a trail tied the network of Facebook pages to MyTel, VietTel and a Vietnam-based PR firm named Gapit Communications.
MyTel and Gapit did not respond to requests for comment for this story.
While telecommunications companies owned by governments can be found in countries around the world — Etisalat in the United Arab Emirates and the Data and Communication Company in Iran, for example —  those backed by armed forces are rare. However, where they do exist,  experts say that such companies wield huge power over digital spaces and competitors.
"Telecoms are very lucrative, and in some countries, like Myanmar, Vietnam and Egypt, the military really plays an outsized role in their economy and the country at large," said Allie Funk, a researcher with Freedom House, an organization that ranks political liberty around the world.
"Control over ISPs and other types of mobile services means that it is easier to access data that's really sensitive to minority groups. It's also then easier for the government to shut down the internet or block websites," she added.
Freedom House gave Myanmar an Internet Freedom Score of 36/100 in its 2020 country report.
The network of fake accounts also highlights the penetration of social media platforms like Facebook in impoverished countries like Myanmar, where the company has more than 18 million users and is, for many people, the most popular way to access and share news.
The importance of telecoms to the military can be seen in a 2015 announcement by the Egyptian ministry of defense, which said it would create a National Company for Communications Infrastructure and own a 51% controlling stake in the new entity, overseeing the laying out and monitoring of fiber-optic cables nationwide. The plan never came to fruition.
Danny O'Brien, director of strategy at the Electronic Frontier Foundation, a U.S. based nonprofit organization that defends civil liberties in the digital world, said Myanmar and Egypt share common forms of military oversight.
"I think Myanmar and Egypt stand out because of a recent history, where military dictatorships were threatened by internet-mediated revolutions, and then managed to secure some degree of control," he said, via email. "I think they learned a lesson then about the dangers a free and open internet can pose to military control."
Myanmar's restive Rakhine State is now home to the world's longest-running internet shutdown. In June 2019, amid mounting clashes between the armed forces and insurgents from the predominantly Muslim Rohingya ethnic group, the Myanmar government ordered telecommunications networks operating in much of the state to switch off mobile internet access.
Facebook and Myanmar's military
The discovery of the fake Facebook pages underscores concerns about how military-backed telecommunications companies seek to preserve their market share and raises questions as to whether Facebook should be doing any business at all with companies linked to Myanmar's military, also known as the Tatmadaw.
Mark Farmaner of Burma Campaign UK, a human rights advocacy group that publishes a "Dirty List" of businesses with ties to the Myanmar military, said Facebook's move to curb coordinated disinformation about telecoms is insufficient.
"Facebook are happy for the Myanmar military to promote products that help pay for genocide, but if they spread disinformation about their rivals, that's where Facebook draws the line. It's a strange standard," wrote Farmaner in email.
In 2018, Facebook removed the accounts of several Myanmar military officials from both Facebook and Instagram,  in order to prevent the spread of "hate and misinformation" related to the Rohingya.
In September 2018, the United Nations Fact Finding Mission on Myanmar, which is tasked with investigating human rights violations in the country, stated that the nation's military has "so seriously violated international law that any engagement in any form with the Tatmadaw, its current leadership, and its businesses, is indefensible."
The UN's findings followed a 2017 crackdown by the Myanmar military that left thousands of Rohingya dead and drove more than 700,000 to flee to neighboring Bangladesh.
Photo by SAI AUNG MAIN/AFP via Getty Images