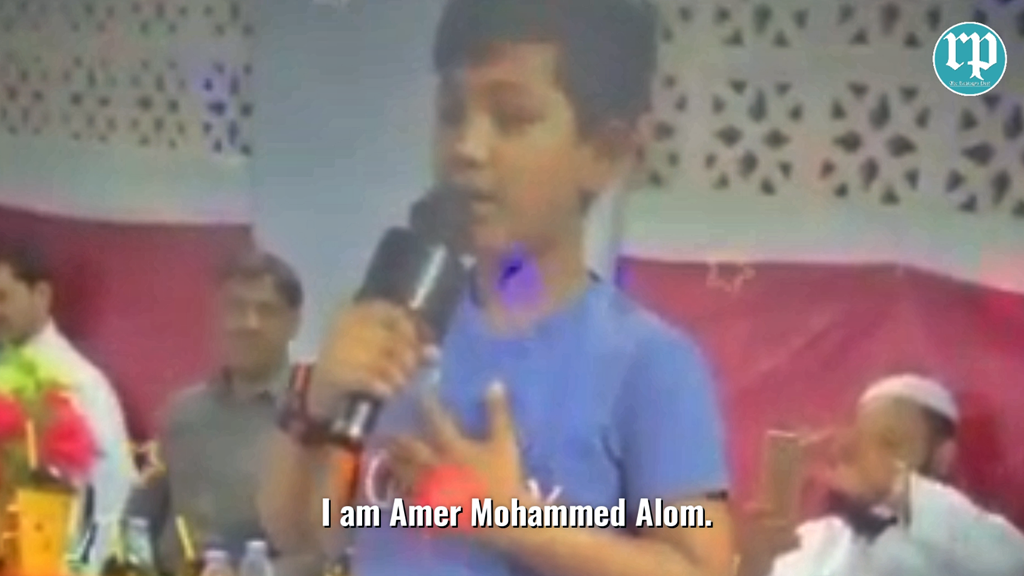 Nine-Year-Old Rohingya: Education, 'The Tool Which Helps Us Removing Our All Doubts and Fears'
By The Rohingya Post
In Jeddah, Saudi Arabia, a Class-Four Rohingya student has delivered a speech during a parent-teacher gathering.
The short and powerful speech was on the importance of education.
More so, it was delivered by a nine-year-old Rohingya boy whose community has been deprived of education in their native country Myanmar, and over 400,000 Rohingya children in Bangladesh refugee camps are also denied formal education.
Amer, son of Mohammed Alom, highlighted, "Education is very important in our daily life. It helps to know what is right and what is wrong."
"Education is the tool which helps us removing our all doubts and fears," he further emphasised on the importance of education in combating fears.
Amer's father who was born in Sidda Fara (Myoma Khayandan), Maungdaw Township, Arakan (Rakhine State), has fled the country taking refuge in the kingdom where he saw the essential need for his son, the education.
Maungdaw was in the epicentre of Myanmar Military's campaign of genocide against the Rohingya community, from where over 78,000 were forced to flee into Bangladesh in September 2016 and again over 750,000 Rohingya in August 2017.
As Amer said, "Education is knowledge and it teaches us how to live. Good education is the only way to remove bad habits," Rohingya children in diaspora should be allowed access to the formal education and encouraged to seek the education which will benefit both to the Rohingya community and the host country in the long-term.
There are over 200,000 Rohingya in Saudi Arabia sought shelters since 1960s when Myanmar Dictator General Ne Win laid out the systematic campaigns of discrimination, persecution and expulsion of the Rohingya community from their homeland.
Despite generations of Rohingya have born and grown up in the kingdom, the access to education, healthcare and the legal recognition hinder the development of the community and the contributions towards the host community.
Amer should be an example to allow access to education, which removes "all doubts and fears" among the Rohingya and various communities, and provides a platform for a sustainable and peaceful coexistence.