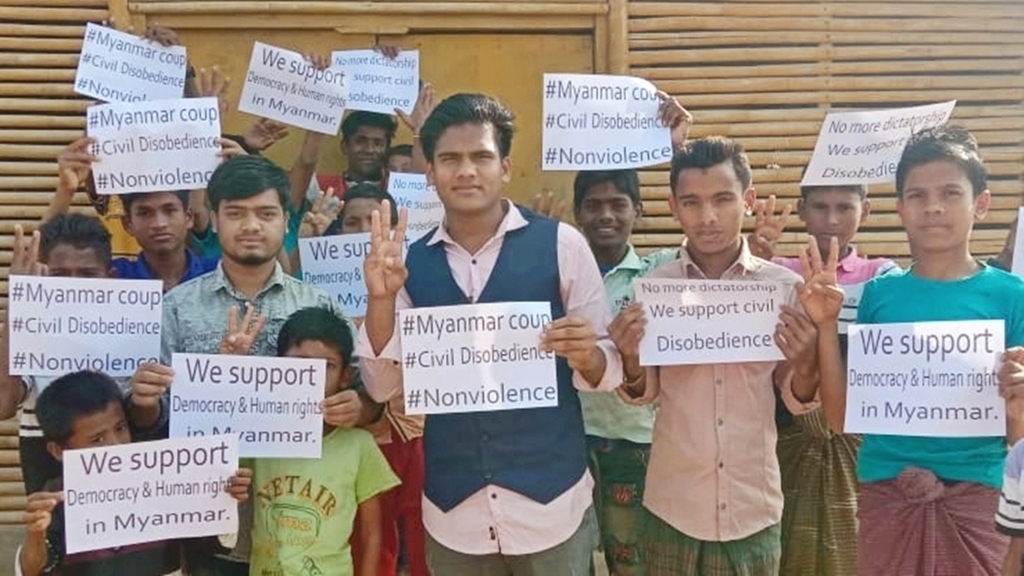 Rohingya in Bangladesh's camps held rally against coup in Myanmar
By Md. Kamruzzaman
We are peace lovers, willing to live peacefully together with other general people in Myanmar, says Rohingya youth leader
DHAKA, Bangladesh (Feb. 13, 2021) – Dozens of Rohingya youths in the world's largest refugee camps in Bangladesh's southern district of Cox's Bazar on Friday held a peaceful rally, supporting the ongoing pro-democratic movement in Myanmar.
"We love democracy and human rights everywhere in the world and so we always support democratic transition in Myanmar," Khin Maung, founder of Rohingya Youth Association RYA) told this journalist.
Underlining the military coup in Myanmar as a move that has stopped democratic transition of power in the Southeast Asian state and will increase human rights violation, he added: "This is our main concerns as a citizen of Myanmar and part of Myanmar society."
Myanmar military on February 1 overthrew the country's democratically elected government in a coup, detaining civilian leaders including country's de facto leader Aung San Suu Kyi and President Win Myint and declared a one-year-long state of emergency.
The armed administration also imposed a nationwide internet shutdown and blocked access to social media sites, and took control of the reins of government.
"The Burmese [Myanmar] military is playing games with our issues and chief of the force general senior Min Aung Hlaing is one of the responsible persons for Rohingya genocide," Maung said.
Terming a once killer as the head of state as a bad luck for Rohingya, he warned: "Our future is very dark in his hands".
Meanwhile, the Rohingya youths who took part in the rally carried placards writing "no more dictatorship, we support human rights and democracy."
The participants at the rally said that they are supporting the general people of Myanmar and "what they are doing now against the military coup".
"We are peace lovers, willing to live peacefully together with other general people in Myanmar," Maung said, adding that democracy is in a baby level in Myanmar.
Speaking to this journalist Ali Jinnah, Communication Director of the association, said: "Many of our ancestors have spent their whole life to establish democracy despite heavy pressure of the army junta."
About the rally, he said: "Due to coronavirus pandemic and instructions of the host country Bangladesh, we have gathered on a small scale today. But we are raising the spirit of tens of thousands of people of our community."
Jinnah added that despite persecution on Rohingya by both army regime and civilian government they don't want to survive any more under military rule.
"If this military rule sustains long, it will demolish our country in future and create a serious bar on the way to our peaceful repatriation to home country Myanmar's Rakhine State," Jinnah added.
Currently, more than 1.1 million Rohingya have been living in crammed camps in Bangladesh, most of whom fled the August 2017 military crackdown that was perpetrated in the guise of curbing militants.
Thousands of minority Rohingya have been brutally killed, women raped and houses were burnt down.
A genocide lawsuit is currently under the jurisdiction of the United Nations' top court "International Court of Justice".