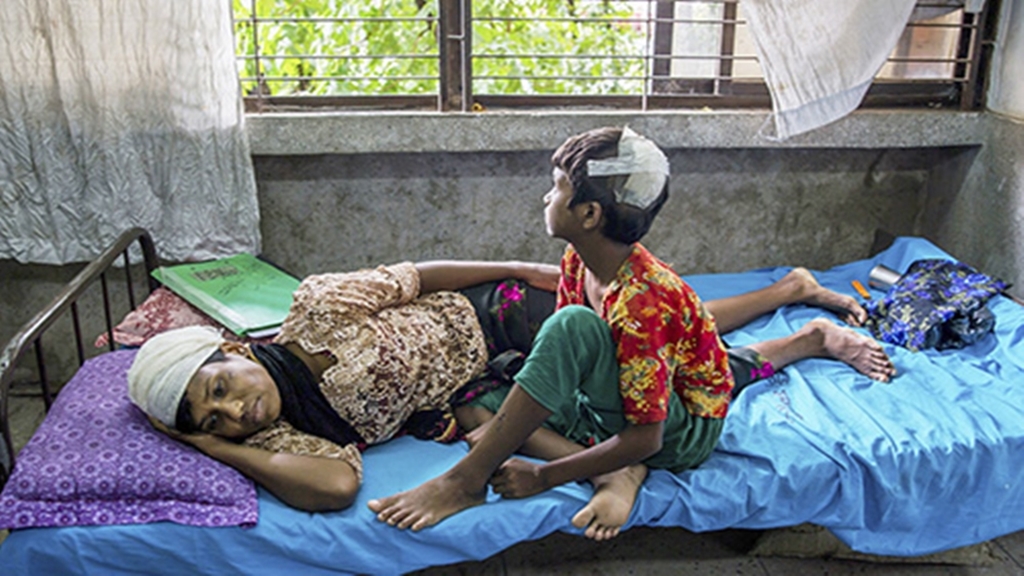 Rohingya Muslim crisis: 145,000 children fleeing Burma face malnutrition
By Mythili Sampathkumar, Independent 
Over 500,000 Rohingya Muslim refugees have fled to Bangladesh in the last six weeks 
Of the half a million Rohingya refugees that have poured into Bangladesh, approximately 145,000 are children under the age of five at risk of malnutrition.
According to the Disasters Emergency Committee charity, at least 14,000 Rohingya refugee children in Bangladesh are already suffering from "severe acute malnutrition."
More than 50,000 pregnant and breastfeeding women are also in dire need of proper food rations.
The influx of Rohingya from the western Burmese state of Rakhine into Bangladesh since 25 August is "the world's fastest developing refugee emergency," according to the United Nations Secretary General Antonio Guterres.
Evan Schuurman, spokesperson for Save the Children's humanitarian response team in Cox's Bazar, Bangladesh, told The Independentthe "sheer speed" at which the crisis has escalated which provides the biggest challenge for relief efforts and providing aid to children and families.
Responding from Bangladesh, Mr Schuurman said that amounts to an average of 10,000 people a day, every day, in the last six weeks. "It's truly staggering."
According to Mr Guterres' spokesperson Farhan Haq, there were already approximately 200,000 Rohingya in Bangladesh before the latest deluge of people began.
Steve Taravella, WFP's senior spokesperson told The Independent that though this crisis mimics others in terms of "desperation, violence, separated families, blocked access to aid, people too weak from hunger to walk on their own" the situation is exacerbated by Bangladesh's own problems.
"The flow of people is constant and rapid and overwhelming a country that is struggling to manage its own development needs."
Another issue in Bangladesh this time a year – monsoon season.
Mr Schuurman said the rains have hit the country "particularly hard" this season, causing flooding, transportation, and logistics issues for aid workers.
It "has put huge pressure on host communities and basic services," he explained.
An inundation of illegal drugs over the Burmese border and smaller share of existing food and clean water resources are concerns for poorer villagers in the region.
Climate change has been a primary concern for the South Asian country, but in order to help the influx of newly arrived refugees Bangladesh has taken deforestation to make room for expanded tent communities.
"The government allocated 2,000 acres when the number of refugees was nearly 400,000," the Secretary of Disaster Management and Relief Mohammad Shah Kamal told Reuters.
At least 1,000 acres more have been allocated to accommodate up to 150,000 makeshift tarpaulin shelters.
As more and more trees are cut down, the natural habitat of animals like elephants is increasingly encroached upon.
Wild elephants crushed two refugees to death in September and authorities fear it could happen again.
The Rohingya have faced decades of discrimination and persecution by the majority Buddhist population in Myanmar, where they are denied citizenship despite centuries-old roots in the country.
The current crisis erupted when an insurgent Rohingya group attacked police posts in Rakhine state, killing a dozen security personnel — an act that Mr Guterres condemned.
The attacks prompted Burma's military to launch "clearance operations" against the rebels, setting off a wave of violence that has left hundreds dead, thousands of homes burned and began the mass exodus.
The UN has called on Burma and its controversial, once-hailed, prominent politician Aung San Suu Kyi to allow for the safe return of Rohingya to their homes.
Ms Suu Kyi's position as state counsellor does not give her authority over the military, but the international criticism is for her failure to speak out against alleged human rights abuses – including mass killings, gang rapes, and the burning of villages.
The UN has made an appeal of $434 million to assist more than a million people for the coming six months.
The hope is that the political situation will be resolved by then in order to avoid an enduring crisis, for which Bangladesh and its already struggling economy will likely have to bear the financial brunt.
Further complicating the relief response to help these refugees is the growing refugee and famine crises in the rest of the world. Nearly 20 million are on the brink of famine in Sudan, Nigeria, Somalia, and Yemen.
Syrian refugees are still living in camps in Lebanon, Jordan, and Turkey.
The World Food Programme did receive a contribution from the US government to the tune of $1.18bn but Mr Taravella said that though this is "an enormous help at the global level" the agency cannot apply any of it to this particular crisis.
WFP is currently providing rice rations for about 580,000 people at the moment however in order to fully address food-based needs in Bangladesh for the next six months, WFP would need $73.2 million – that would ensure rations for one million people to include new arrivals, refugees who fled before August 2017, actual registered refugees, and people living within host communities who still need help.
The agency would also require around $7m for logistics and emergency telecommunications.
So far, about $20m of the total $80m has been secured through country contributions from Europe, US, UK, Australia, and Canada. But, Mr Taravella estimated that would only cover food rations up to middle of November of this year.
Agencies contributed to this report.