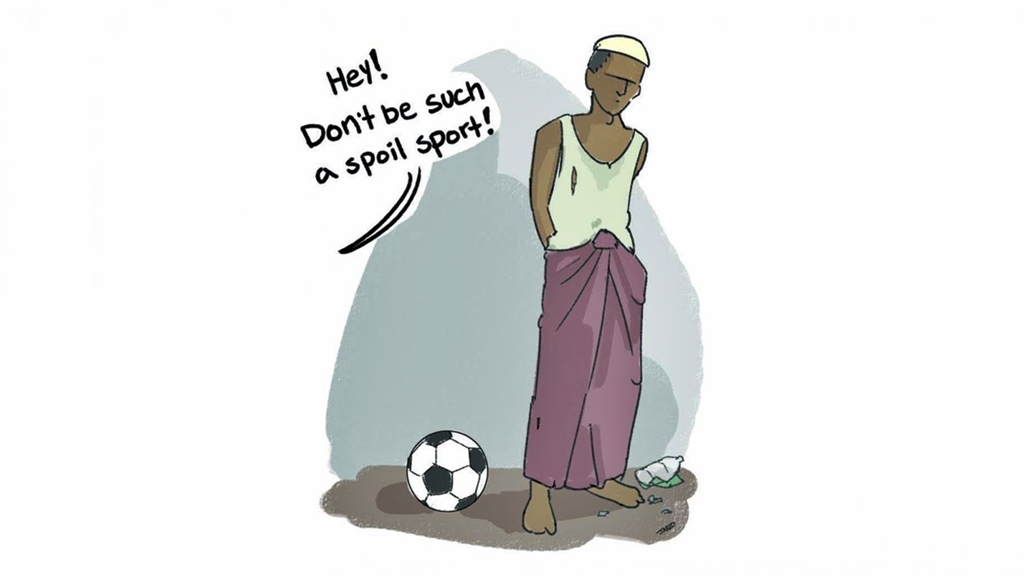 Rohingya refugees are humans, not footballs
"It's just like a ball game. We are here to encourage … someone should kick off the ball. Otherwise the game cannot be started."
Unfortunately, Mr Zheng Pianzhuo, director of the political division at the Chinese embassy in Dhaka, was not referring to the English Premier League or even a Chinese Super League match, when he made these remarks to journalists in Cox's Bazar on August 22.
He was referring to the process of repatriating Rohingya from Bangladesh to Myanmar, and China's role in that process.
It is a role that merits further scrutiny.
Both Bangladesh and Myanmar have publicly acknowledged China's involvement as not just an observer but also a facilitator of repatriation.
China orchestrated the first failed repatriation attempt in November 2018. The latest attempt on August 22 came about because of China's desire to break the deadlock and get the "game" started, following Prime Minister Sheikh Hasina's visit to Beijing in early July.
China likes to position itself as a constructive partner for both countries, as an unbiased mediator and a counterpoint to meddling Western interests who don't "get" the conflict.
China views the Rohingya crisis as essentially a development problem and appears to have taken Myanmar's word that northern Rakhine State is now a paradise of concrete roads and new, identikit villages. It seems to think that once the first group of refugees returns, everything will be fine and more will follow.
Because of this, it can't comprehend why Bangladesh doesn't just force the refugees back and get the ball rolling.
But this is not a game of football. It is the repatriation of people who have fled their homes due to a deadly campaign of violence perpetrated against them – a campaign that was preceded by decades of systemic persecution. Many have fled to Bangladesh twice, even three times, in their lives. Why would they go back without basic rights and face the risk of the same thing happening again? Bangladesh understands this, but went through the motions because it doesn't want to be seen as an obstacle to repatriation.
China fails to appreciate or recognise the Rohingya community's deep distrust of the Myanmar government. Repatriation is not impossible, but building roads and villages, schools and clinics will not be enough. The refugees' concerns and reservations can only be resolved through dialogue and, perhaps ultimately, some kind of settlement or agreement.
Unfortunately, the failed repatriation attempt has overshadowed – and threatened to undo – the nascent progress made at a July 27-28 meeting between the Rohingya refugee community and the Myanmar Ministry of Foreign Affairs delegation, led by permanent secretary U Myint Thu.
The meeting got off to a rocky start – the Rohingya participants threatened to walk out during the government's opening presentation ­– but ASEAN and Bangladesh observers helped to keep it going. By the middle of the second day, there was a constructive atmosphere. Both sides were listening to each other.
But now the leader of the Myanmar delegation to Cox's Bazar, Myint Thu, has been despatched to Japan as Myanmar's new ambassador, and the recriminations from the failed repatriation attempt are well underway.
In a statement on August 22, Myanmar's Ministry of Foreign Affairs said Bangladesh had failed to stick to the procedures in their bilateral memorandum of understanding signed in November 2017. In response, Bangladesh said Myanmar has created the problem and it is Myanmar's responsibility to convince refugees to win the trust of refugees so they repatriate voluntarily.
Further dialogue with the Rohingya community in the refugee camps will be essential. There is also a relatively easy way to resolve disputes over how the memorandum of understanding is implemented: expanding it to a tripartite agreement that includes UNHCR. So far, though, Myanmar has shown no interest in doing this. Nor has it agreed to requests to allow international observers or refugee community leaders to visit northern Rakhine to see conditions for themselves.
Hopefully China will reflect on the events of August 22. If it wants to be a constructive player in resolving the crisis, it should start viewing the refugees as humans.
This editorial first appeared in the August 29 edition of Frontier.