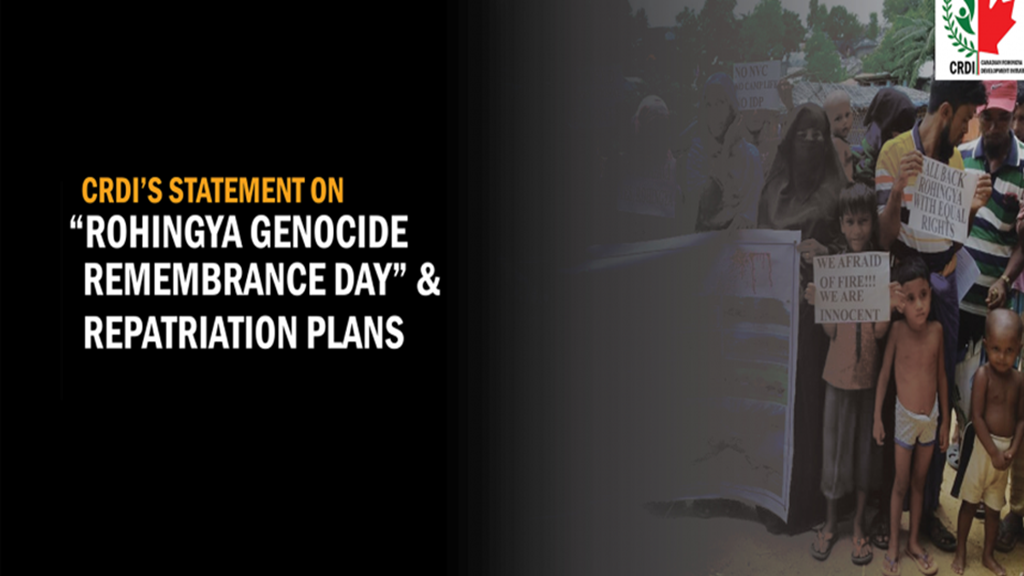 STATEMENT: GENOCIDE AND REPATRIATION
August 25th: Second Rohingya Genocide Remembrance Day and Myanmar/Bangladesh Repatriation Plans
(Toronto, Canada, August 22, 2019) — On this day, we commemorate the Rohingya genocide. On 25 August 2017, the Myanmar military launched a clearance operation to systematically remove Rohingya people from their land by burning villages, killing and harming tens of thousands of people, and enacting sexual violence against women and children.
The clearance operations sparked the largest exodus of Rohingya people to date, which forced approximately 745,000 Rohingya people into Bangladesh, into an area where some 200 000 Rohingya were already located, due to previous waves of genocidal violence and persecution. The 2018 Independent International Fact-Finding Mission on Myanmar's (IIFFMM) report concluded that Myanmar's commander-in-chief, Senior General Min Aung Hlaing, and his top military leaders should be investigated and prosecuted for genocide, crimes against humanity, and war crimes. These amount to the most serious crimes under international law.
As the second anniversary of the Rohingya genocide looms and passes, we are also witnessing renewed talks of repatriation of Rohingyas to Myanmar from Bangladesh. In August 2019, ASEAN representatives joined a Myanmar government delegation which was visiting the refugee camps in Bangladesh with the goal of restarting repatriation talks with the Rohingya community. Myanmar and Bangladesh, with the cooperation of the United Nations High Commissioner for Refugees (UNHCR), will potentially start repatriating people this month, and they are currently surveying refugees to identify those who wish to return voluntarily.
However, as many individuals and organizations (Rohingya and non-Rohingya alike) have noted, the conditions in Myanmar are not conducive to refugees' return at this time for several vital reasons.
1)The Myanmar government has not reinstated Rohingyas' citizenship
Myanmar continues to refuse to recognize Rohingya as citizens, and the government denies the existence of an indigenous Rohingya identity. Instead, the government has promoted the National Verification Card (NVC) as a source of documentation for Rohingyas. However, the NVC is a means of accessing naturalized citizenship, not a confirmation of indigenous identity. Without citizenship, on an equal basis as other recognized indigenous, ethnic groups (and its accompanying set of rights) repatriation will remain unsafe, insecure, and ultimately inviable for Rohingya people.
2)The living conditions in Rakhine state are getting worse
As NGOs have noted, Rohingya communities in Rakhine State continue to face restrictions on movement and lack access to education, healthcare and meaningful livelihood opportunities. Many Rohingya continue to live in internally displaced persons' (IDP) camps, far away from their original homes.
Beyond the Rohingya crisis, there are conflicts in Rakhine State between the Myanmar army and other ethno-religious groups. Most notably, there have been recently increased clashes between the Arakan Army (AA) and the Myanmar military. Amnesty International, in a new extensive report, details the war crimes and other human rights violations committed by the Myanmar military as part of an operation against the AA over the past year.
Repatriation cannot occur when conditions are still so violent and dire. The Myanmar government must address the fundamental issues of citizenship and equal rights and ensure that all communities in Rakhine State are able to live in peace.
3) Lack of consultation with Rohingyas in the camps
Without consultation with Rohingya people, repatriation plans should not be negotiated. Rohingya must be meaningfully engaged in ongoing discussions by intergovernmental agencies, and the Governments of Myanmar and Bangladesh, in any and all discussions about their future. Repatriation is what Rohingyas desire most. However, without consultation, talks of return should be off the table. The two governments, and ASEAN and other organizations such as the UNDP and UNHCR, must go further to represent the views of Rohingya refugees legitimately. The continued lack of consultations with those who are impacted by these critical decision-making processes must be addressed.
We call on the Canadian public and the Canadian government to continue supporting the Rohingyas. Canada has shown overwhelming support for the Rohingya cause, and over the past two years, the Government of Canada has made many significant strides in the right direction. Momentum has been growing in Canada for the government to act through the Internal Court of Justice.
On 20 September 2018, members of Parliament from all political parties unanimously adopted a motion that endorsed the findings of the IFFM which had concluded that crimes against humanity have been committed against Rohingyas and other ethnic minorities in Myanmar. On 11 April 2019, Canadian Senator Marilou McPhedran introduced a motion in the Senate urging the Government of Canada to invoke the Genocide Convention and hold Myanmar to its obligations while seeking provisional measures and reparations for the Rohingya people.
On 29 May 2019, the All-Party Parliamentary Group for the Prevention of Genocide and other Crimes Against Humanity called for Canada to initiate legal proceedings before the ICJ regarding Myanmar's breach of the Genocide Convention. On 25 June 2019, a letter co-signed by 34 senators and more than 100 human rights organizations and advocates was sent to Foreign Affairs Minister Chrystia Freeland urging Canada to initiate proceedings before the ICJ for breaching the Genocide Convention.
Let's make sure that the Rohingya crisis is considered seriously during the upcoming federal election and is at the top of mind when Parliament returns in the fall.
We thank you from the bottom of our hearts for your support.
For more information, please contact:
Yuriko Cowper-Smith – ycowpers@uoguelph.ca
Saifullah Muhammad – crdi@rohingya.ca