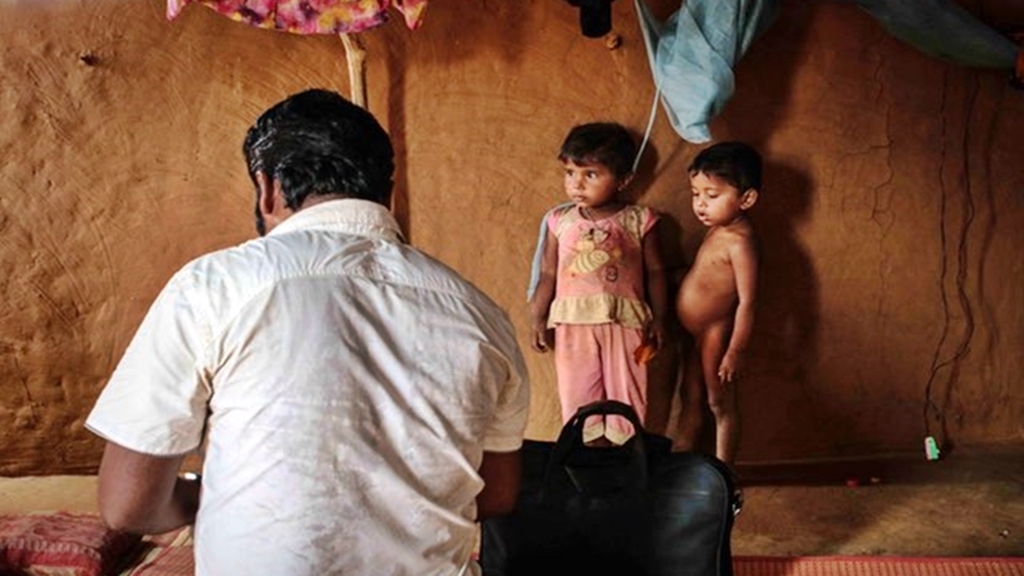 The Rohingya Doctor Tending to Forgotten Refugees
By John Owens, NewsDeeply
Among the estimated 75,000 Rohingya who fled their homes in Myanmar into Bangladesh following a military crackdown, Dr. Nur Kabir has become a savior for refugees at Kutupalong camp in Bangladesh.
KUTUPALONG REFUGEE CAMP, BANGLADESH – A well-known doctor in his community, Nur Kabir was among an estimated 75,000 Rohingya who fled Myanmar into Bangladesh amid a military offensive last October. Yet displacement will not stop his work.
After fleeing the military to a nearby area, the 30-year-old physician briefly returned to the wreckage of his village in Myanmar's Maungdaw district. He made sure to bring all the medicine he could before joining a mass exodus across the border in mid-October.
Now living among his fellow refugees in the Kutupalong camp in the Cox's Bazar district of Bangladesh, Kabir is one of the few trusted doctors in the community, and his skills are needed more than ever.
Lacking Everything
Between those who turn up impromptu at the hut he now calls a home and shares with his wife, five children and extended family, and those who call him on his ever-ringing mobile phone, Kabir estimates that he sees around 30 patients per day.
Like any doctor, he deals with a variety of ailments, but in the conditions of a refugee camp some illnesses are all too common.
While malaria and cholera are the challenges of the present, his work often includes the recent trauma of the past – Kabir regularly checks up to see how those who suffered gunshot wounds fleeing the crackdown are healing.
Supplies are limited. Unaffiliated with any NGO, Kabir buys low-cost pharmaceutical drugs from a local supplier on credit, which he pays back after charging patients a small fee.
Asked what he is short of, his answer is succinct: "everything."
Rohingya Marginalized
Kabir's passion for his work is a response to the marginalization of the Rohingya in Myanmar.
The Rohingya, a minority Muslim community in a country that is nearly 90 percent Buddhist, have long been persecuted within Myanmar. They are deprived of citizenship and labeled Bengali immigrants despite a presence in the country dating back generations. They are also subject to limitations on nearly every aspect of life, from movement to education to health provision.
"I realized that when Rohingya people went to non-Rohingya doctors they weren't given proper treatment," he said. "It was from this that I realized being a doctor would be a way of helping my community."
The military launched an offensive in Myanmar's Rakhine state last October following the death of nine policemen at the hands of an insurgent Rohingya group. The U.N. has documented reports of mass killing and rape by troops, allegations that are denied by Myanmar authorities.
As well as the latest wave of refugees, between 300,000 and 500,000 Rohingya are estimated to now live in Bangladesh. Some have lived in the long-established parts of Kutupalong camp for decades.
'The Lady'
Kabir's view of Aung San Suu Kyi – whose party was voted into power last year and who was seen as a flag bearer for human rights – reflects widespread disillusion among the Rohingya.
"She has political power, but that is the power of speaking, no more," he said, alluding to the continued influence of a military junta that has long controlled Myanmar despite recent moves toward democracy.
For those who arrived in Bangladesh last winter hoping to return quickly, days have turned to weeks, and weeks to months.
Kabir fears the onset of the rainy season later this month, and the lurking threat it brings of typhoid. However, he remains hopeful that international pressure will allow the possibility of safe return for his people.
One of his patients, however, is not so sure.
Sayeda Khatum, 60, was diagnosed with tuberculosis when she arrived in the camp at a nearby Medecins Sans Frontieres clinic. She believes non-Rohingya doctors ignored her illness back in Myanmar. Despite suffering in the harsh conditions of the camp, she feels her chances of getting treatment are better while displaced in Bangladesh than back home.
And at least in Kutupalong, she adds, the Myanmar military are nowhere to be found. "Here, I can sleep peacefully," she said.