The Rohingyas are Praying for your Recovery Mr. Prime Minister
By Aman Ullah
British Prime Minister Boris Johnson began the third day in intensive care battling coronavirus. He was diagnosed with COVID-19 on March 26. As per today's news, British Prime Minister Boris Johnson is "improving" while still in intensive care with COVID-19, according to a U.K. government official.
Chancellor of the Exchequer Rishi Sunak on Wednesday provided an update on Johnson's condition, saying the "latest from the hospital is the prime minister remains in intensive care where his condition is improving," per The Associated Press. Johnson has "been sitting up in bed and engaging positively with the clinical team," Sunak added.
Downing Street in a statement on Wednesday also said that Johnson "continues to make steady progress," per BBC News, and a spokesperson said he is "responding to treatment."
Johnson was hospitalized on 5 April 10 days after he tested positive for COVID-19. The British prime minister said he went for "some routine tests as I'm still experiencing coronavirus symptoms." He had described his initial symptoms as mild. By 6 April, he was moved to intensive care. Johnson has deputized British Foreign Secretary Dominic Raab.
Johnson was Foreign Secretary of Theresa May's Conservative Party Government since July 2016. As a Foreign Secretary, he visited Bangladesh, Thailand and Myanmar regarding Rohingya Refugees issue.
British Secretary of State for Foreign and Commonwealth Affairs Boris Johnson went Bangladesh for a two-day official visit on 9 February 2018. His visit to Bangladesh is the first official visit by a British foreign secretary in 10 years. He met Prime Minister Sheikh Hasina prior to his meeting with Foreign Minister Ali.
During his official visit, the foreign secretary also visited a refugee camp in Cox's Bazar to see first-hand the conditions of the Rohingyas, who have fled Myanmar following ethnic cleansing. Where he said: 'I have seen for my own eyes the horrendous living conditions the Rohingya people are having to endure and it has only further strengthened my commitment to working with international partners to improve the lives of these people in 2018'. He also said that 'It is vital that the Rohingya refugees must be allowed to their homes in Rakhine voluntarily, in safety and with dignity'. 'I pay tribute to the hospitality and compassion shown by the government of Bangladesh, who are facing an enormous challenge in providing humanitarian assistance to the Rohingya community' he added. He further said that 'While I welcome steps by both the Burmese and Bangladeshi governments towards ensuring that these people can return home, it is vital that the Rohingya refugees must be allowed to their homes in Rakhine voluntarily, in safety and with dignity, under international oversight, and when the conditions in Burma are right.'
While making his joint press statement along with Bangladeshi Foreign Minister Mahmud Ali, Johnson said the international community needs to work hard on how to solve the Rohingya issue outside the border – in Myanmar. He also said that "The plight of the Rohingya and the suffering they have had to endure is one of the most shocking humanitarian disasters of our time. This is a man-made tragedy that could be resolved with the right political will, tolerance and cooperation from all those involved.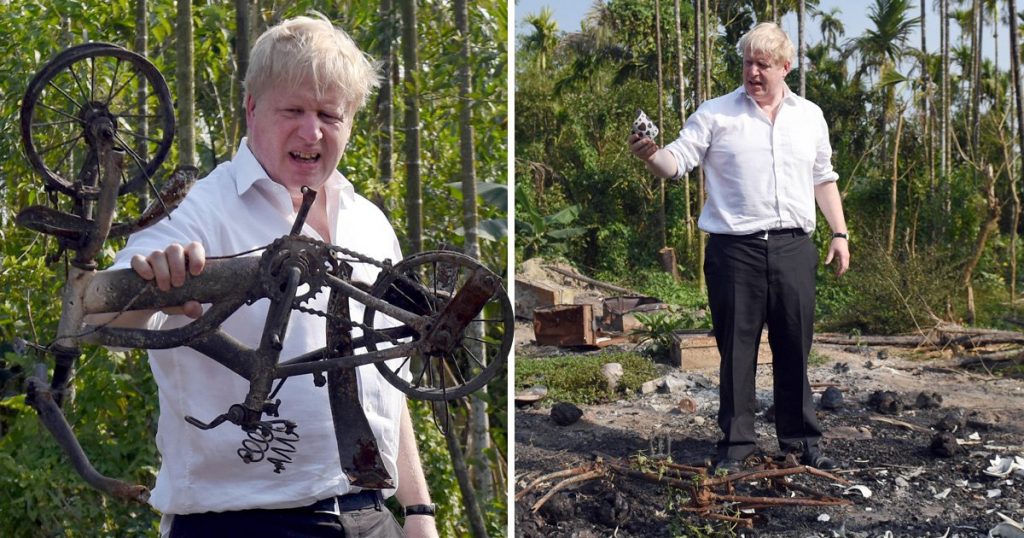 "I want to see and hear for myself the terrible things these people have been through, and I will be talking to State Counsellor Aung San Suu Kyi and other regional leaders about how we can work together to resolve this appalling crisis", he said. He stressed the need for quick repatriation of the Rohingya refugees to their homeland in Myanmar, saying any delay might complicate the issue.
The British foreign secretary made the statement during his meeting with Prime Minister Sheikh Hasina at Ganabhaban later that evening.
The Bangladesh prime minister Sheikh Hasina said Myanmar State Counsellor Aung San Suu Kyi should act sincerely to this end and also stressed the importance of implementing the recommendations made in the Kofi Annan Commission report on the Rohingya crisis for a durable solution.
Foreign Minister AH Mahmood Ali, Prime Minister's Adviser Dr Gowher Rizvi, Principal Secretary Nojibur Rahman and British High Commissioner to Bangladesh Alison Blake were present at the meeting.
Johnson has condemned the persecution of the Rohingya Muslims in Myanmar. He compared the Rohingya situation with the displacement of Palestinians in 1948.
On 12 February 2018, Johnson went to Thailand and he met with Thai Foreign Minister Don Pramudwinai, where he stressed the British government's especial concern about the plight of about 700,000 members of the Muslim minority who have fled to Bangladesh to escape violence by Myanmar security forces that has been characterized by some human rights experts as ethnic cleansing.
On that day he went to Myanmar where he raised the persecution of the minority as he met Burma's de facto leader Aung San Suu Kyi in Naypyidaw. On the third day of his four day tour of Asia Boris Johnson visited burnt out villages in Burma. He inspected villagers' belongings left to waste. He spoke to villagers in Pan Daw Pyin, Maungdaw, Burma, whose homes had been lain to waste.
During his visit, he met the met many Rohingya both at Arakan and Bangladesh refugee camp. His cordial approach, honest empathy, heartfelt encouragement and straightforward promises were still in the memories of these Rohingya. They all thanked him from the bottom of their hearts and the following pictures of him are still in the remembrances of all the Rohingya people.
Now, this great man is battling with coronavirus in ICU of the St. Thomas Hospital of London for three days. All the Rohingyas are praying to their lord for his early recovery. They all wish to see their respectable man at his Prime Minister office again in sound health and blissful atmosphere.