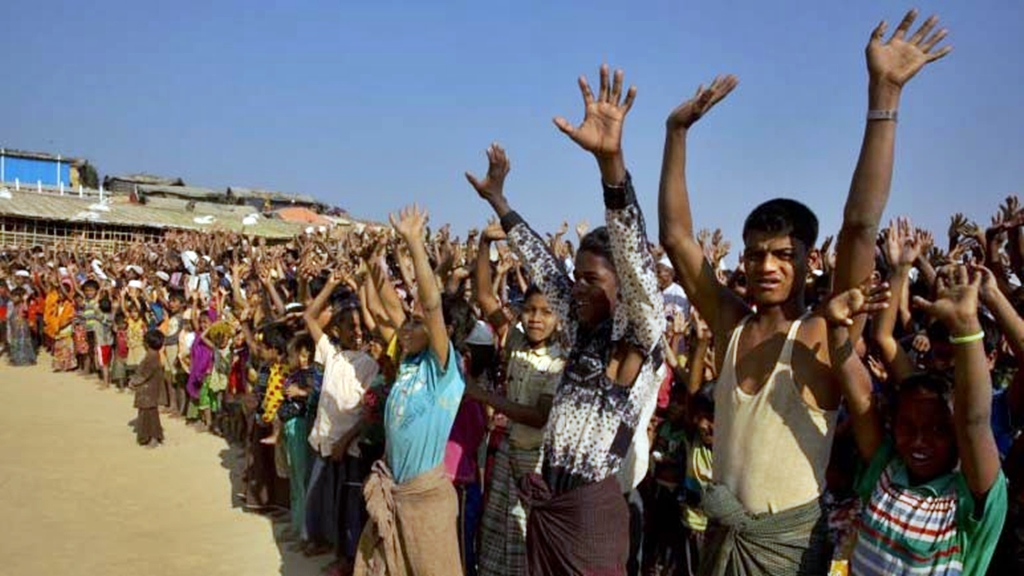 US wants postponement of Rohingya relocation to Bhashan Char
Appreciating the country for opening its borders to huge Rohingya refugees, the United States has urged Bangladesh to "postpone" its Rohingya relocation plan to Bhashan char until independent experts can determine it a suitable location, though Bangladesh is looking for a voluntary nature of relocation.
"We urge Bangladesh to postpone any refugee relocations to Bhashan Char until independent experts can determine it is a suitable location," said Alice G Wells, US acting assistant secretary at the Bureau of South and Central Asia.
She made the call while delivering her statement at a hearing before the House Foreign Affairs Subcommittee on Asia and the Pacific on Tuesday, chaired by Congressman Brad Sherman.
Earlier on October 21, Bangladesh and the European Union discussed the Bhasan char relocation plan and Bangladesh reassured the "voluntary nature" of such Rohingya relocation.
State Minister for Foreign Affairs M Shahriar Alam also tweeted a couple of days back saying Bhashan Char is ready to welcome Rohingya families.
"Newly-built shelters will offer educational and livelihood options and will decongest the present camps," his tweet reads.
Shahriar mentioned that cluster comes with multistoried buildings, a typical model that is hugely successful in coastal belt.
Bangladesh is currently hosting over 1.1 million of Rohingyas in congested camps in the country's tourist hub – Cox's Bazar district – putting much burden on Bangladesh.
"Given Bangladesh's own development needs, the decision Prime Minister Hasina made to open the country's borders to over 700,000 Rohingya refugees since August 2017 deserves recognition from international partners, including the United States," Wells said.
The hosting of Rohingyas has come with genuine consequences for Bangladesh, which was already one of the most densely populated countries in the world, the US official said.
Wells said the government estimates host communities in Cox's Bazar are outnumbered by Rohingyas two to one, and that these communities have endured economic disruptions, ecological damage, and uncertainty about their own future just as the Rohingya face uncertainty about theirs.
She said the United States is Bangladesh's leading partner in responding to the humanitarian crisis with more than $669 million in assistance provided since August 2017.
"As we have met the immediate emergency response, we maintain that Burma [Myanmar] must create the conditions for the Rohingya's voluntary, safe, dignified and sustainable repatriation and guarantee their rights as recommended by the Annan Commission recommendations," Wells said.
She said Prime Minister Sheikh Hasina has repeatedly reaffirmed Bangladesh's commitment to voluntary repatriation.
Bangladesh remains a "key Indo-Pacific partner" of the United States in regional stability, counterterrorism, two-way trade, development, and poverty reduction, as well as the hosting of 700,000 Rohingyas.
"We have emphasized that fully respecting democratic rights and improving transparency and accountability will contribute directly to Bangladesh's aspirations for economic growth and development" Wells said.
Bangladesh Now Healthier, Wealthier
The United States has recognised that Bangladesh made impressive strides in growing its economy and shrinking poverty.
"As a secular, developing country that prides itself on tolerance and diversity with a female head of state, Bangladesh serves as an example for many Muslim-majority countries around the world," said Wells.
Over the last decade, she said, Bangladesh has grown healthier and wealthier, and is on course to graduate from the Least Developing Country status by 2024.
Wells mentioned that Bangladesh has maintained GDP growth of more than seven percent for over a decade and the government is committed to achieving its Social Development Goals including in areas of gender equality and infrastructure development.
While nearly one in five Bangladeshis live in poverty, that represents a significant reduction from nearly half the population living below the poverty line just two decades ago, she said.
Wells said additional gains include the reduction in child mortality rates by a factor of three and increases in secondary school enrollment (by 50 percent) over the same time period.