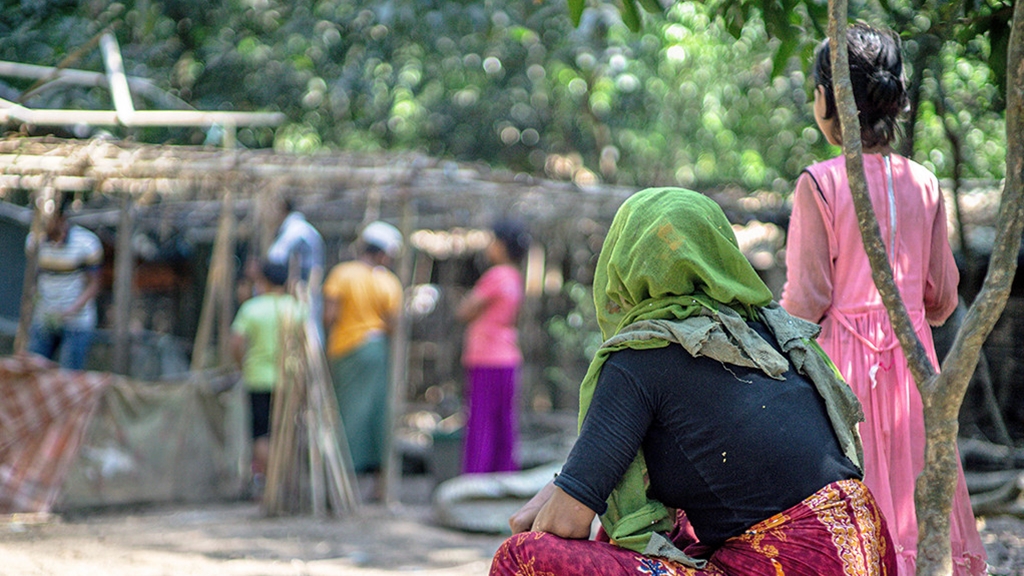 Yale survey of refugees in Bangladesh aims to help prevent COVID-19 spread
Cox's Bazar, a coastal city in southeast Bangladesh, is home to about 900,000 Rohingya refugees living in overcrowded camps. Like other forcibly displaced people across the globe — more than 70 million in all — the Rohingya are extremely vulnerable to COVID-19 infection.
Yale researchers recently surveyed 909 households in Cox's Bazar to better understand the prevalence of COVID-19 symptoms among the refugees and their host communities and how best to stop the disease's spread. Informed by the survey data, the researchers are working with the United Nations High Commissioner for Refugees (UNHCR) to develop and implement evidence-based policies to protect the Rohingya community and its neighbors in Cox's Bazar.
The researchers' study, in pre-print at the Bulletin of the World Health Organization, shows that about 25% of respondents in the camps and more than 13% in host communities reported experiencing at least one common COVID-19 symptom — fever, dry cough, or fatigue. Conducted by telephone from April 11 to April 17, the survey collected data on respondents' health, living conditions, knowledge of COVID-19 prevention, social-distancing practices, and access to healthcare and food.
"This is a uniquely vulnerable population living in densely packed conditions where social distancing is extremely difficult," said Mushfiq Mobarak, professor of economics with joint appointments in the Yale School of Management and the Department of Economics. "If the virus is spreading in Cox's Bazar, it poses a huge danger not only to the Rohingya and their host communities, but to the world. The data is helpful to devise evidence-based policy prescriptions that we can now implement in partnership with UNHCR to prevent outbreaks."
Since 2017, the Rohingya people, a stateless ethnic Muslim minority group, have sought sanctuary in Bangladesh from persecution and systemic violence in neighboring Myanmar. About 26 million Rohingya refugees worldwide reside in low‐income and middle‐income countries with health systems that struggle to meet the needs of the host population.
"UNHCR is acutely concerned about the risks to refugees in Cox's Bazar as well as other areas as a result of the COVID-19 pandemic," said Theresa Beltramo, senior economist and head of Analytics and Research Unit at UNHCR. "In the face of the severe suffering that the virus brings, data on the impact on both refugees and host populations is essential for an effective evidence-based response. UNHCR and Yale are partnering to look for such evidenced-based solutions to critical challenges faced by refugees and their host community in Bangladesh."
While the survey data shows that most respondents understand how COVID-19 is transmitted and practice good respiratory hygiene, about 77% of camp respondents and 52% of those in host communities reported attending a communal prayer in the previous week. More than 47% in the camps and 34% in the surrounding community reported attending a nonreligious social gathering. Attendance at social and religious events is strongly correlated with COVID‐19 symptoms in both the camps and host communities, the study found.
In response, the research team and its UNHCR partners are contacting local imams and encouraging them to embrace alternatives to communal prayer that have been widely adopted in other parts of the Muslim world to reduce risk of new infections.
"Our data show that people have adopted protective health behaviors, but they are still engaged in the dangerous practice of social and religious gatherings," said Paula Lopez-Pena, a postdoctoral associate with the Yale MacMillan Center's Program on Refugees, Forced Displacement, and Humanitarian Responses, and a coauthor of the study. "Interventions should address these risky practices. Our survey identifies trusted sources of information in the camps and host communities, and we've determined that working with community leaders to urge people to follow public health guidelines will have the greatest impact."
The researchers also recommend providing pharmacists, who are serving as frontline healthcare workers in Cox's Bazar, adequate personal protection equipment, and training to treat and educate patients about COVID-19. Among respondents who had sought medical treatment for their symptoms, about 42% of camp residents and more than 70% in the host communities reported first visiting a local pharmacy, according to the survey.
Migration was the strongest predictor of COVID-19 symptoms in camps and host communities, according to the survey. People living in close proximity to at least one migrant who returned to the community in the previous two weeks were the most likely to report at least one symptom of the disease. The finding raises concerns that returning migrants, who travel significant distances to find work, could face increasing stigma in Cox's Bazar, Mobarak said.
The study's other coauthors are C. Austin Davis, assistant professor of economics at American University and a postdoctoral associate at Yale; and Shabib Raihan, senior research associate at Innovations for Poverty Action, a research and policy nonprofit that develops and promotes effective programs to alleviate poverty.
Three entities funded the study: Yale's Y-RISE initiative; the MacMillan Center's Program on Refugees, Forced Displacement, and Humanitarian Responses; and Innovations for Poverty Action's Peace and Recovery Initiative.